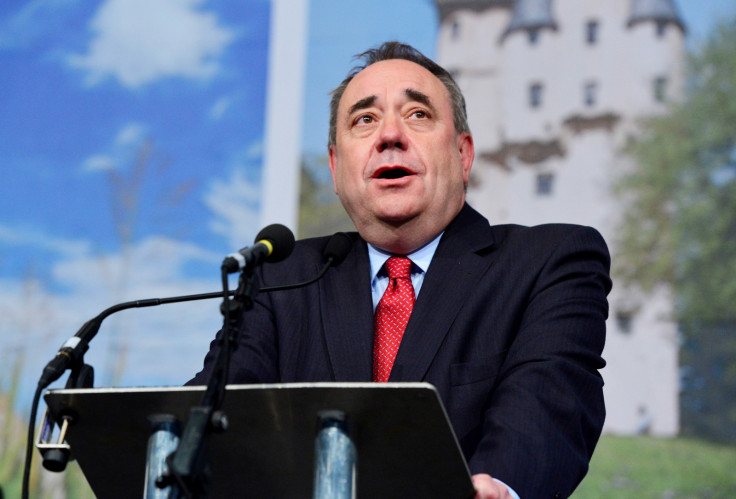 Alex Salmond has been criticised after the former SNP leader claimed late Labour stalwart Tony Benn would be "birling in his grave" over his son's pro-air strike speech in the House of Commons on 2 December.
The nationalist firebrand made the comments after Shadow Foreign Secretary Hilary Benn won plaudits for an impassioned pro-war speech as MPs debated David Cameron's plan to bomb Islamic State (Isis) targets in Syria.
Benn took the opposite position to Labour leader Jeremy Corbyn, who gave his MPs a free vote on the issue, and argued it was imperative to attack the jihadists in the wake of the Paris terror attacks. But Salmond claimed Benn's father, who famously opposed the Iraq War, would have thought otherwise.
"His father, whose speech I heard in the Iraq debate all these years ago, would be birling in his grave hearing a speech in favour of a Tory prime minister wanting to take the country to war and that's just a reality," the MP for Gordon told LBC Radio.
The remarks drew criticism from Labour MPs, including Wes Streeting, who was "simply stunned that any parliamentarian would seek to invoke the memory of Tony Benn to inflict hurtful comments on his son and family".
@georgeeaton @AlexSalmond Mr Salmond, Your comments are both deeply offensive and simply untrue. I hope you reflect and retract them

— Emily Benn (@Emily_Benn) December 3, 2015
Emily Benn, the granddaughter of Tony and a Labour councillor for Croydon, asked Salmond to retract his comments. "Your comments are both deeply offensive and simply untrue. I hope you reflect and retract them," the former parliamentary candidate said.
MPs passed the prime minister's motion by 397 to 223 and Defence Secretary Michael Fallon has since confirmed four RAF Tornado jets based in Cyprus had carried out operations in Syria.
UPDATE (16:48 - 3 December)
Alex Salmond has argued that his remarks were "fair comment" and stressed that he do not intend to cause offence. "'Birling in your grave' is a well-known Scottish idiom, which means a deceased person would be enormously surprised by the current turn of events," the SNP MP said.
"I think it is a fair comment that Tony Benn would have been astonished to hear his son make a pro-war speech in favour of a Tory Prime Minister's war plans.
"There was certainly no disrespect meant to Tony Benn, who I held on the highest regard. Not least of which because of his passionate anti-war speeches – for which I was present.
"The Labour Party would be better employed demanding an apology from the Prime Minister for calling their own party leader a 'terrorist sympathiser'."