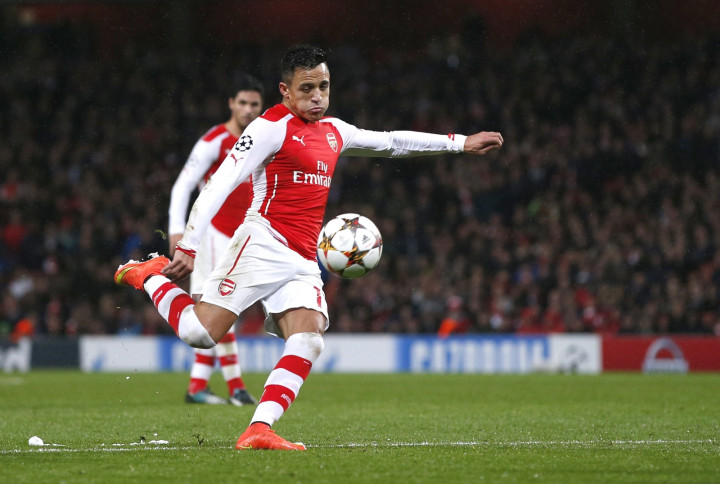 Alexis Sanchez has said he made the right decision to join Arsenal this summer, and claimed his new team have proved to him they have what it takes to win any competition.
Liverpool manager Brendan Rodgers was said to be interested in securing the Chilean international to replace Luis Suarez, following the Uruguayan striker's move to the Camp Nou.
However, Arsene Wenger beat the Merseysiders to the deal after agreeing to pay £32m to Barcelona for his services.
Asked during an interview with AS Chile why he chose Arsenal ahead of other clubs, 25-year-old Sanchez said: "People I trust told me really good things about Arsenal, about its greatness, and the quality of their players.
"Now that I'm here, sometimes I stop to look my teammates during the training session and I realise that I'm surrounded by a lot of quality stars. I have been impressed by their attitude and their talent. I know that with this team we can win many trophies in the coming years. I'm convinced.
"I'm very grateful to Barcelona for signing me and helping me to grow both as a player and person. I learned a lot through their players and I also matured as a person. That dressing room is full of nice people. I only have words of thanks to the club. But I am now at Arsenal and I hope to win everything here. That's why I came here."
Sanchez has quickly settled into the Premier League pace, earning the adoration of the Emirates fans, and his own teammates after scoring 12 goals in 18 appearances.
When asked whether he was familiar with the Arsenal squad before his arrival, Sanchez said: "Not much but I've been impressed.
"I love how they create spaces, their individual and collective movements. I tell you seriously: I like what I see so much that I have repeated myself many times, that if we have the required winning mentality, if we are positive and try to win every single game, I know we can win any competition."