Algeria: Isis-Linked Jund Al-Khilafah Beheads French Hostage Herve Gourdel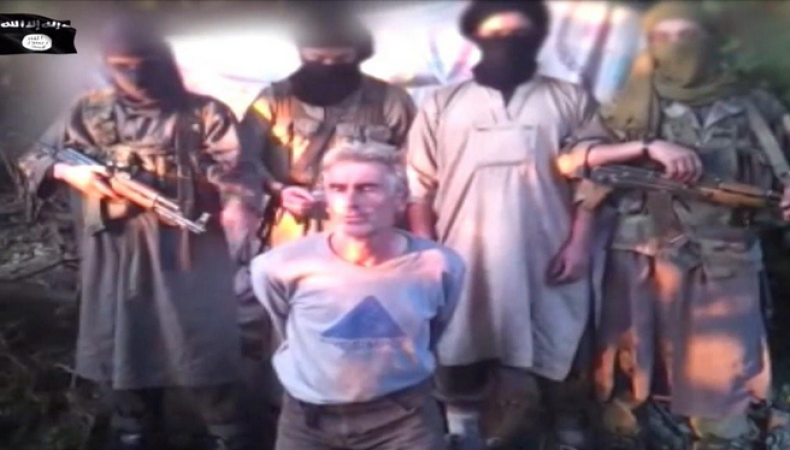 Algeria's Isis-linked group Jund al-Khilafah (Soldiers of the Caliphate) has reportedly beheaded French hostage Hervé Gourdel, according to a video that emerged online.
Gourdel, a 55-year-old mountaineer from Nice, was seized by the group in the north-east area of Kabylie.
In the video, armed militants are seen reading a statement in Arabic that states they will be "closer to God by killing this filthy Frenchman in defence of God's religion". Gourdel is pictured kneeling in front of them.
The Islamist fighters also pledge allegiance to Isis leader Abu Bakr al-Baghdadi saying: "Here are your soldiers fighting those you fight and making peace with those you make peace with."
Before the end of the video, Gourdel is pushed over and held down. In the next frame, he appears to have been beheaded.
Khilafah militants had given a 24-hour deadline to French president Francois Hollande to halt air strikes on the Islamic State (also known as Isis) in Syria with another clip released on Tuesday. They threatened to kill Gourdel if France refused to do so. The French government insisted it will not back down.
The video threat showed the white-haired Gourdel flanked by masked men holding Kalashnikov rifles. "President François Hollande, I am Hervé Gourdel, a mountain guide from the French town of Nice," he said in the previous footage, before asking the French government to secure his release and stop his support for US air strikes in Syria.
France's Foreign Minister Laurent Fabius had confirmed that video was authentic.
"Our security is at stake but we're not going to give in to terrorist threats," he said. "Everything is being done, in close cooperation with the Algerian authorities, to obtain the release of our compatriot.
"But we must not hide the fact that the situation is extremely critical."
The hiker arrived in Algeria on Saturday 20 September and was abducted the following day while trekking in the heart of the Djurdjura National Park.