Chinese e-commerce giant Alibaba Group Holding has disclosed details about the 27-person partnership that will run the firm post its planned US listing.
The firm, on 16 June, filed an amended prospectus for its planned New York initial public offering (IPO), where it said its partnership structure will include 22 members of management such as chief executive Jonathan Zhaoxi Lu, chief operating officer Daniel Yong Zhang, executive chairman Jack Ma and executive vice chairman Joseph Tsai.
The 27 partners will have the exclusive right to nominate a majority of Alibaba's nine-board members.
Alibaba also said its shareholders SoftBank and Yahoo have agreed to vote their shares in favour of Alibaba Partnership's nominees.
Earnings Data
The revised document also provided more details about Alibaba's quarterly earnings and the operating results of Alibaba units Taobao and Tmall, the firm's two main market places.
The company said revenue in the three months to March rose 38% year-on-year to $1.9bn (£1.1bn, €1.4bn), while profit increased 31% to some $884m.
Transaction volume on the Taobao site totaled CNY295bn in the three months ended 31 March, up from CNY223bn a year ago, while transaction volume on the Tmall site totaled CNY135bn as against CNY71bn a year ago.
The revised IPO prospectus has to be approved by the US Securities and Exchange Commission (SEC).
The updated document provides potential investors with more information about the operations of China's largest e-commerce firm, whose initial filing in May was slammed for its lack of detail.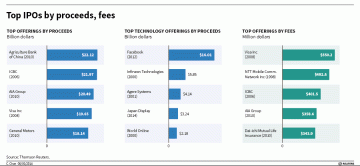 Alibaba and its affiliates have splurged over $6.7bn over the past six months alone, most of it in Asia.
The investments expected to boost Alibaba's valuation, include an online market place in the US, a Chinese football club, a US-based mobile application developer, a Hong-Kong based department store operator and Chinese media assets.
Alibaba's New York IPO is widely expected to trump Facebook's $15bn initial stock sale in 2012.