Alibaba to Buy Out UCWeb in China's Biggest Internet Merger and Launch US Online Store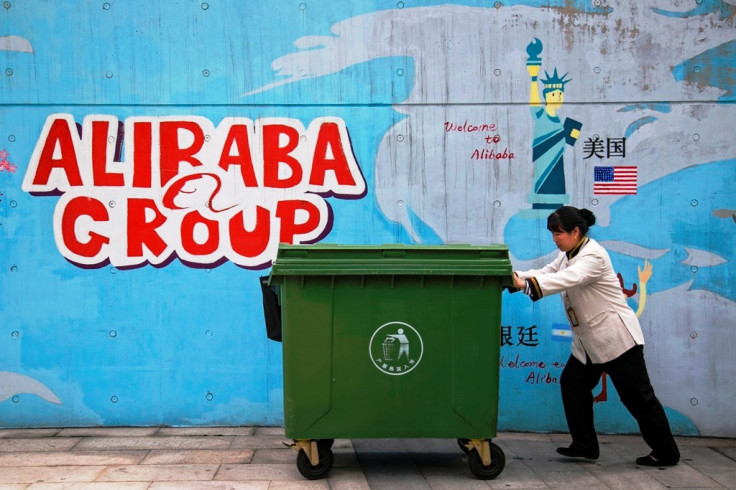 E-commerce giant Alibaba's expansion strategy will see it do more business on mobiles in China, the world's biggest smartphone market, and tap online shoppers in the US ahead of a proposed multi-billion dollar New York floatation.
Alibaba Group Holding has agreed to acquire the remaining shares of the Chinese mobile browser firm UCWeb -- the deal will be the biggest merger in Chinese internet history.
Meanwhile, Jack Ma's firm, having tasted success at home, is ready to roll out its first online marketplace in the US – christened 11Main.com.
UCWeb Deal
Alibaba's latest deal, which follows a string of investments over the past six months, will be larger than Baidu's $1.9bn (£1.1bn, €1.4bn) acquisition of 91 Wireless in 2013, Alibaba said.
The deal will be done using Alibaba's stock and some cash, the e-commerge giant added.
Alibaba holds about 66% stake in UCWeb, according to its May IPO filing.
UCWeb Chief Executive Yu Yongfu will serve as chairman of the business group and will join Alibaba's "strategic decision-making committee," according to Alibaba.
"This integration will create the biggest merger in the history of China's Internet," Alibaba said on its microblog.
11Main.com
11Main.com will initially target customers by invitation only.
Two Alibaba subsidiaries, Auctiva and Vendio, are expected to launch the US portal on 11 June.
"We want the shops to represent the diversity of Main Street. Some shops are high-end boutiques and some are more vintage,'' said Mike Effle, president and general manager of 11 Main, reported BBC.
Alibaba IPO
Underwriters are eyeing a road show in late July, where they will introduce Alibaba to investors, with an initial public offering (IPO) pricing date tentatively planned for the first week of August.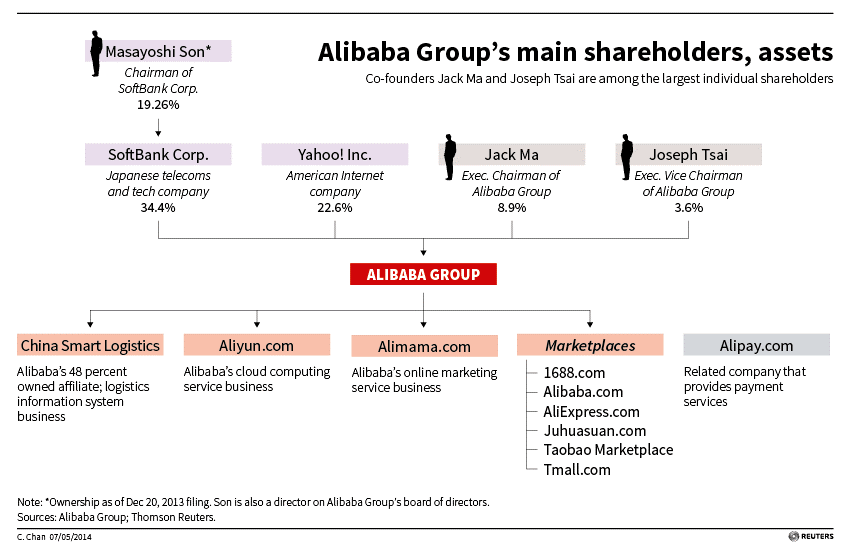 Alibaba Group's main shareholders and assets.
Reuters
The IPO pricing could happen before 8 August, Fox Business reported.
IPO Windfall
A large number of Alibaba employees are set to become millionaires following the company's proposed US listing, which could value the firm at as high as $150bn.
With a 26.7% shareholding through stock options and other incentives, former and current Alibaba employees could unlock about $41bn once they are free to sell their shares some time after the IPO.
Alibaba and its affiliates have splurged over $6.7bn over the past six months alone, most of it in Asia. The investments include a Chinese football club, a US-based mobile application developer, a Hong-Kong based department store operator and Chinese media assets.
© Copyright IBTimes 2023. All rights reserved.