Around 7.1 million Indonesians are eligible to cast their vote on Wednesday (15 February) in Jakarta's gubernatorial race, which is overshadowed by the incumbent governor's blasphemy trial.
The election to the governor's post attracts a lot of attention in Indonesia as the post is reported to be a springboard to the presidency. More than 13,000 polling booths were opened at 7am local time (12midnight GMT) to vote for the leaders of seven provinces, 18 cities and for the local leaders of 76 districts.
Although 85% of the population are Muslims, the country is officially home to six minority religions including Christianity and Hinduism, as well as hundreds of ethnic groups.
It is incumbent Governor Basuki "Ahok" Tjahaja Purnama's first electoral test as head of Jakarta. He stepped in as governor from the deputy's position in 2014 when the then-governor Joko Widodo became the president of Indonesia.
Purnama, an ethnic Chinese Christian is contesting against Agus Harimurti Yudhoyono, a former army major and the son of a former president, and Anies Rasyid Baswedan, who is a former education minister. Baswedan is also reported to be a moderate candidate eyeing to garner the votes of conservative and hard-line Muslims.
The incumbent governor, who has got the backing of Widodo's party, was seen as the favourite to win this election until he became involved in a blasphemy case in late 2016.
"I do hope that there will be no more related political and religious tensions after this election," Hanida Syafriani, a resident of East Jakarta, who was supporting Purnama told Reuters.
Another voter, Deny S Pamudji, 57, an ethnic Chinese said: "Some of my Muslim friends do believe he blasphemed and won't vote for a non-Muslim, the case has created differences among us."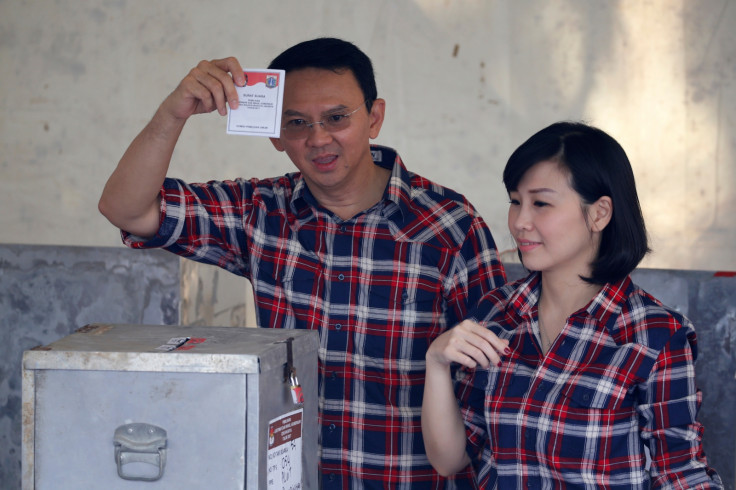 Purnama was the first governor of Jakarta from an ethnic minority group in more than five decades. He is now on trial for allegedly insulting Islam after he said his opponents were using the Quran to mislead voters.
Hard-line Muslims have accused him of insulting the Islamic holy book, following which massive protests were held across the capital for several weeks as angry demonstrators demanded his resignation from office and subsequent arrest.
Purnama has denied committing blasphemy. He could face a jail term of up to five years, if he is found guilty as blasphemy is a criminal offence in Indonesia.
Official results will be announced only after two weeks. But the election could lead to a runoff in May between the top two polling candidates as it is thought to be unlikely that any of the three candidates will achieve a majority in the first round in any provincial vote. A candidate is expected to secure the required 50% of the vote for an outright win.