Jakarta governor faces blasphemy charges for allegedly insulting the Koran
Basuki Tjahaja Purnama is the first ethnic Chinese and Christian to have assumed the governor's role in the Muslim-majority nation.
The governor of the Indonesian capital of Jakarta has been named as a blasphemy suspect after some Muslim groups accused him of insulting their holy book, police said on Wednesday, 16 November. The case will now be heard at a court.
Basuki Tjahaja Purnama, the first ethnic Chinese and Christian to have assumed the governor's role in the Muslim-majority nation, is also facing demands for resignation. The Muslim groups have also urged the people not to re-elect him in the upcoming polls.
Thousands of Muslim hardliners staged massive protests earlier in November demanding the governor's arrest. One person was killed and several were injured during the protests – touted as the biggest in many years. The Muslim groups had threatened of more protests if Purnama, also known as Ahok, was not arrested. President Joko Widodo has urged the citizens to remain calm and avoid escalating tensions.
On Wednesday morning police announced at a press conference that the allegations against Ahok will be tried in the court, but he will not be detained because there is no consensus among investigators and religious experts over whether the comments made by the governor were blasphemous. However, Ahok will not be allowed to leave the country while the investigation is underway.
"Basuki Tjahaja Purnama has been named suspect. We have reached an agreement, even though it was not unanimous that this case should be processed in an open trial," Channel News Asia quoted Ari Dono Sukmanto, chief of the national police criminal investigation department, as saying.
The blasphemy allegations arose after a video of a speech by Ahok went viral in which he appeared to be criticising the Koran. In the speech made in September, the governor had reportedly said that his opponents deceived voters by attacking him using a verse from the Koran.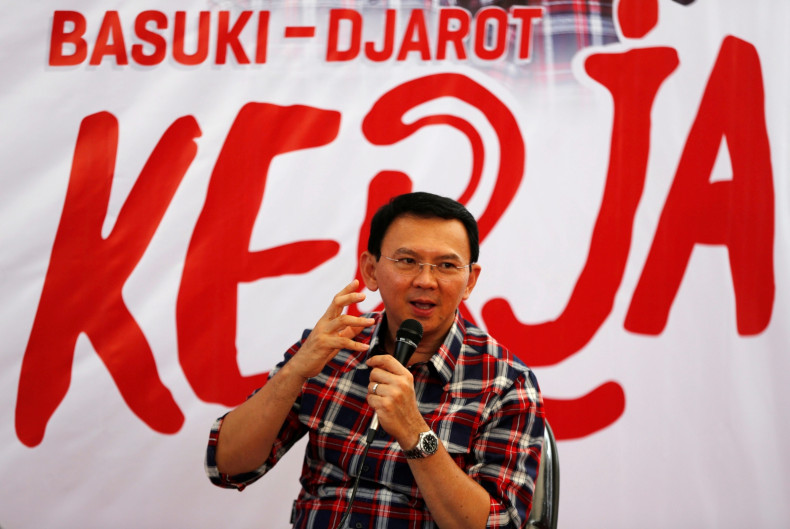 However, the police said that the speech was uploaded by a social media user following editions and some omissions in the subtitles that made it sound like he was criticising the Koran rather than his rivals.
Police is now investigating the case and the role of the social media user. They have questioned up to 70 witnesses in the case, Channel News Asia reported.
Meanwhile, Widodo called on the protestors to respect ethnic diversities in the country. He reportedly cancelled a planned visit to Australia because of the unrest in the capital and spent the past two weeks rallying the political, religious and security establishments behind him, The Associated Press reported.
The president has also ordered police forces to tighten security in the wake of threats of more protests by Muslim hardliner groups.