A huge number of Muslim protesters covered in white have started marching towards a central Jakarta park on Friday, 2 December, to demonstrate against the Christian governor of the Indonesian capital, who is the first ethnic Chinese to hold the post.
Over 100,000 Indonesians are expected to assemble for the rally demanding the arrest of Governor Basuki Tjahaja Purnama for allegedly insulting the Quran.
National news agency Antara said at least 22,000 policemen would be deployed to avoid a repeat of the violence that erupted in November when hardline Islamists held a protest demanding Purnama's resignation. One person was killed and several others were injured during the protest, termed as the biggest in several years.
"We are expecting over 100,000 participants. There is enough security so the public need not worry. We hope everything will proceed according to the agreement with the protesters," Jakarta police spokesman Argo Yuwono said on Thursday.
A group of Muslim protesters, who have pledged that Friday's demonstration will be peaceful, headed towards the National Monument in the centre of the city from the Istiqlal mosque at around 5am local time, after morning prayers.
"This gathering is an expression of Muslims being united as one people, one body. It's not against a particular person because of his ethnicity. We are only against his action," Salist Nursolikhah, 49, who came from the city of Yogjakarta to join the gathering, said.
Indonesia is home to dozens of ethnic groups, some of whom follow traditional beliefs. Purnama, who is popularly known as Ahok, has been named as a blasphemy suspect after a video of a speech by him in September went viral in which he appeared to be criticising the Quran.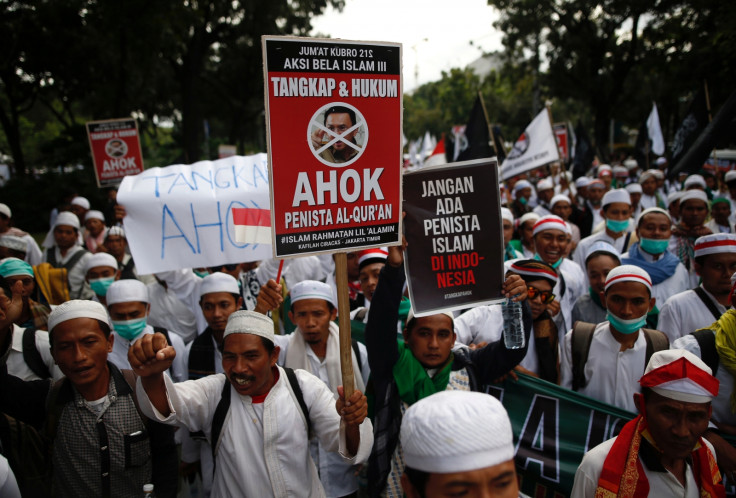 In the speech, the governor had reportedly said his opponents tricked voters by attacking him using a verse from the Quran. Ahok has denied the allegations against him.
Police, who have questioned up to 70 witnesses in the case, handed over their investigation file to prosecutors on Thursday. Prosecutors are expected to take the alleged blasphemy case to court in the coming weeks.
Indonesian President Joko Widodo, who is a long-time ally of Purnama, has come out in support of him. He blamed "political actors" for stirring tension and said they are taking advantage of the popular anger among Muslims over Purnama.
Purnama is running for re-election in February against two Muslim candidates, and protesters are urging people against re-electing him in the upcoming polls.