In news that may not be welcome for his opponents, the doctor for Donald Trump has said that the US president is fit for office.
Ronny Jackson briefed the White House on Trump's physical exam saying that the US leader was "healthy and will remain so for the duration of his presidency".
"His cardiac performance during his physical exam was very good, he continues to enjoy the significant, long-term cardiac and overall health benefits that come from a lifetime of abstinence from tobacco and alcohol."
A reporter then asked Dr Jackson how a man who consumes fried chicken and Diet Coke and does not exercise could be in good shape, and he replied: "It's called genetics... He has incredible genes."
He also said he had "no concerns about his cognitive ability or neurological functions".
This follows question marks over the president's mental state raised in the book by Michael Woolf, Fire and Fury. Trump had apparently insisted on the mental test, which is called the Montreal Cognitive Assessment test, in which he scored 30 out of 30.
It is not a psychological evaluation but tests for cognitive disorders like Alzheimer's.
"I can reliably say and the folks in the mental health community would back me up on that, that if he had some type of mental cognitive issue that this test is sensitive enough to pick up on that," he told reporters.
Although he does not exercise, Jackson said he could lose up to 15 pounds, improve his diet and his cholesterol is being treated with the cholesterol drug Castor. The six foot three inch Trump, weighs 229 pounds, or nearly 16 and a half stone. This places him in the 'underweight' category of the BMI chart, instead of 'obese'.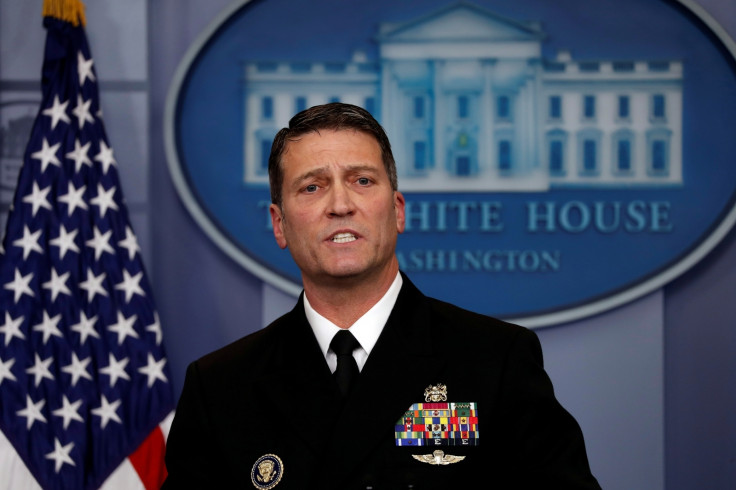 "We talked about diet and exercise a lot, he's more enthusiastic about the diet part than the exercise part, but we will do both," Jackson said.
The tests took place at the Walter Reed Medical Center in Bethesda, Maryland last week.
It emerged that as well as Crestor, Trump takes a low dose of aspirin, a cream for rosacea as well as a multivitamin. Jackson acknowledged Trump takes Propecia, a hairloss medicine.
The good news about his health followed rather worse news about his poll ratings, after it emerged he had the lowest approval of any elected president in the first year.
An Associated Press analysis of Gallup data showed that he had ratings of 39%, much lower than the previous worst, of Bill Clinton, who had 49% in 1993.