Former Friday Download presenters Dionne Bromfield, George Sear and Tyger Drew-Honey only have each other in horror road trip movie Up All Night but they want some famous company if a sequel is given the green light.
Boy band The Vamps, Noel Gallagher's daughter Anais and her mother Meg Mathews were among the stars who flocked to London's Leicester Square for the world premiere of the teenage adventure film.
Speaking to IBTimes UK about the film actor George Sear said he would love to hang out with Leonardo DiCaprio on a road trip, while singer Dionne Bromfield gushed over Beyonce.
The cast remained fairly coy when discussing the possibility of a sequel, with actress Louisa Connolly-Burnham insisting: "Who knows what's going to happen? We don't!" to which Evermoor actor Sear added: "There's been no talk of it but never say never."
The group, which also includes Ethan Lawrence, Bobby Lockwood, Richard Wisker and Shannon Flynn, are fairly familiar with each other having presented Friday Download multiple times in the past and sharing the big screen together did not daunt them in the slightest.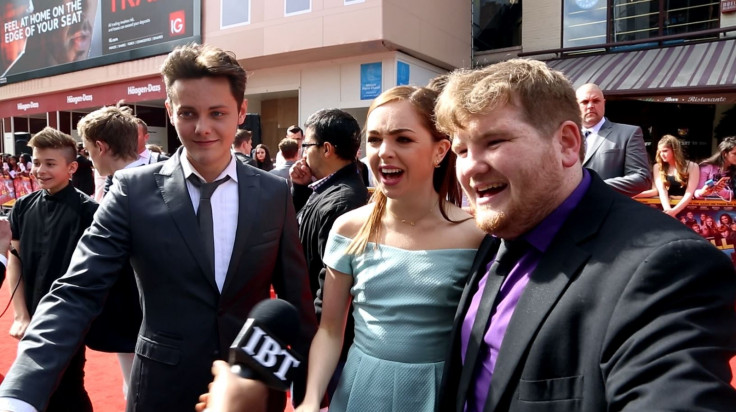 Drew-Honey, star of 24 Hours In The Past, explained: "When I used to present the Friday Download I was Tyger, one of the presenters, but in this film I'm Caleb which is something that was slightly difficult for me to get my head round.
"I've presented with this group before as myself and now they're acting to me as another character. That was something that was quite hard to get used to but it still worked."
Explaining the dynamic between the cast members during the four-week shoot, which took place in Swansea, Sear said: "We brought the same energy as we did on the TV show but it's just scripted this time and we saw each other every day."
Bromfield added: "I know it sounds really weird but even though we were doing a film it didn't feel like [it]."
Up All Night, which also stars comedian David Mitchell and a cameo from Britain's Got Talent duo Bars and Melody, will hit UK cinemas on 22 May.