Even as Star Wars 7 is months away from its official premiere date, the JJ Abrams directed movie has been subjected to mean leaks.
The latest of which is a leaked picture of Lupita Nyong'o's character Maz Kanata from Force Awakens. According to Indie Revolver, Maz's character is also code named Rose. The website claimed that the green colour concept art is Maz Kanata, the pirate.
"Our friends at Indie Revolver have released another image from the Star Wars: The Force Awakens. This is a solid look at the concept art for Maz (codenamed "Rose")," fan website Making Star Wars said in a report. Click here to see the leaked picture.
However, contrary to the claim of the website, in the second teaser of the science fiction thriller, there is a blink and miss scene where the CGI character (orange colour) is handing out Darth Vader 's lightsaber to Queen Leia.
The fan website suspects that Maz's home will be in an exotic city named Golan District.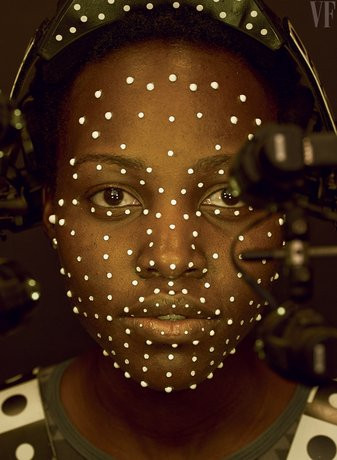 Meanwhile, Vanity Fair reported that Maz will play a pirate, but Lucas Films has not yet revealed much details about which side of the Resistance (the film's new term for the Rebel Alliance) Nyong'o's CGI character support.
The portal has another picture of a group of CGI characters which was captioned as: "Galactic travelers, smugglers, and other assorted riffraff fill the main hall of pirate Maz Kanata's castle."
The space action thriller is rumoured to feature a lot of flashback scenes, as the movie begins 30 years after the events of the Return of the Jedi.
Fan website making Star Wars speculates that Han Solo, Rey, Finn, and Chewbacca go into the catacomb below Rose's pub, where they will learn about the abandoned lightsaber and Luke Skywalker's secluded life.
Star Wars 7 is the first movie of a new trilogy and features the original cast that includes Anthony Daniels, Peter Mayhew and Kenny Baker alongside Andy Serkis, Max von Sydow, Oscar Isaac, Adam Driver and Domhnall Gleeson, along with newcomers British actors John Boyega and Daisy Ridley.
Star Wars: The Force Awakens will premiere in theatres on 18 December this year.