Alleged Ukraine SS war criminal Vladimir Katriuk dies in Canada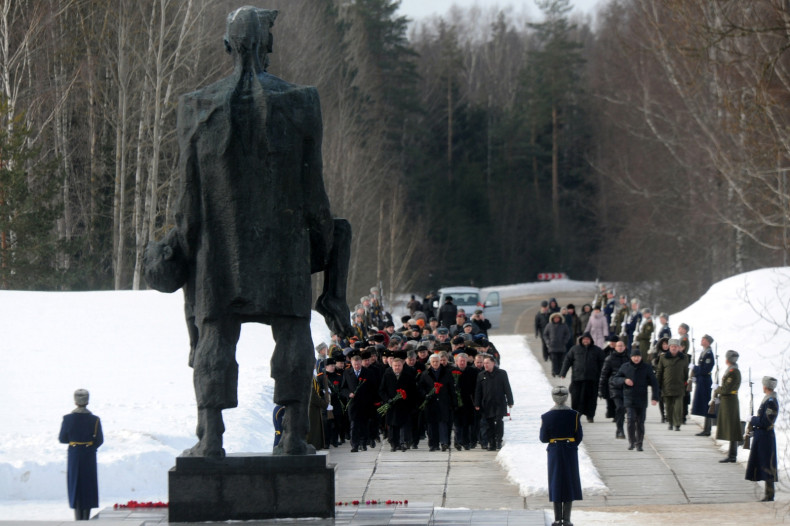 One of the world's most-wanted alleged Nazi war criminals has died aged 93 in Canada.
Vladimir Katriuk was the second most-wanted man on the Simon Wiesenthal Centre's list of Nazi war criminals.
His death came only hours after the Canadian Centre for Israel and Jewish Affairs said the Canadian government should take the necessary steps to ensure Katriuk stood trial for his alleged crimes.
Katriuk's lawyer told the Canadian Star newspaper his client had been ill for some time.
"I think it was last Friday," Orest Rudzik said. "It was a stroke or something do with a stroke."
Katriuk was allegedly a member of a Ukrainian SS battalion between 1942 and 1944, which in 1943 killed civilians in Khatyn, now part of Belarus.
Russia charged Katriuk with genocide early this month. He denied all charges.
Only weeks ago, the Investigative Committee of the Russian Federation called on Ottawa to extradite Katriuk to Moscow to be tried for war crimes.
In a statement, Russia accused Canada of refusing to help bring Katriuk to justice.
"The Canadian government ignored numerous appeals by Canadian Jewish organisations and efforts by the Russian authorities to ensure that justice be served, allowing Vladimir Katriuk to retain citizenship of Canada while peacefully residing in this country," said Kirill Kalinin, press secretary of the Russian embassy in Canada.
Three years ago, a study citing evidence from KGB reports declassified in 2008 alleged that a man named Katriuk had in March 1943 machine gunned civilians fleeing a barn that had been set alight.
"One witness stated that Vladimir Katriuk was a particularly active participant in the atrocity: he reportedly lay behind the stationary machine gun, firing rounds on anyone attempting to escape the flames," the study, by Lund University historian Per Anders Rudling, says, reports Associated Press.
Katriuk allegedly deserted his unit when it was redeployed from eastern Europe to France in 1944, living in Paris before emigrating to Canada in 1951, according to court documents.
He became a Canadian citizen, and worked as a beekeeper, living quietly with his French-born wife in Ontario.
In 1999, Canada's federal court found that Katriuk had obtained his passport fraudulently after failing to declare his wartime membership of the SS. No evidence could be found that he had committed war crimes, and the Canadian government announced in 2007 that it would not renounce his citizenship.