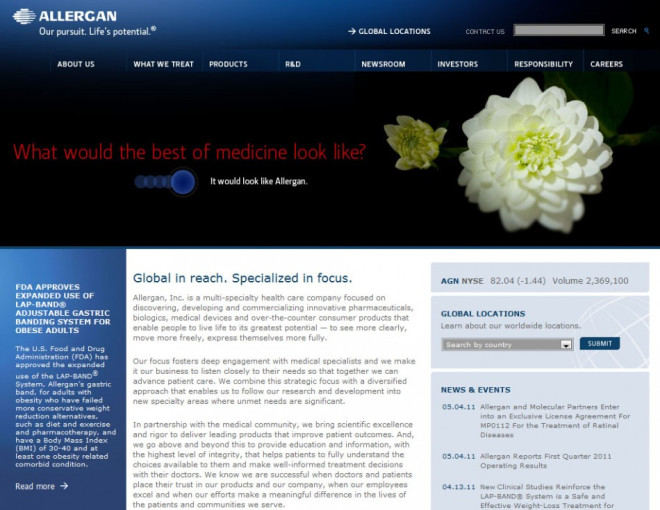 Allergan, the US drug company which manufactures Botox, rejected Canada-based Valeant Pharmaceuticals International's $47bn takeover offer, on the grounds that cost cuts would be too steep and would not be in the best interests of shareholders.
Allergan chief executive officer David Pyott Allergan chief said: "Valeant's model of cutting and slashing really doesn't work for more than a very short period of time."
Pyott said Valeant's plan for billions of dollars in cost cuts would prevent Allergan from delivering growth that it could produce on its own, and he set a target of a 20% to 25% increase in earnings per share in 2015, Reuters reported.
"After a comprehensive review, conducted in consultation with its financial and legal advisors, the Allergan Board concluded that the Proposal substantially undervalues Allergan, creates significant risks and uncertainties for the stockholders of Allergan, and is not in the best interests of the company and its stockholders," the company said in a statement.
Activist investor Bill Ackman, who holds a 9.7% stake in Allergan through hedge fund Pershing Square Capital Management - the largest single shareholder - made an unsolicited cash and stock offer for the company in April. Other large shareholders include BlackRock and State Street Global Advisors.
Allergan indicated its lack of interest for the deal, adopting a "poison pill" measure to counter hostile takeovers.
"Valeant's unsolicited proposal substantially undervalues Allergan and does not reflect the value of the Company's leading market positions, sales and marketing foundation, industry-leading research and development efforts, as well as future revenue and earnings growth," said David Pyott, Allergan's chairman and CEO.
Pyott added that the proposal includes a large stock component, which Allergan believes risky given the uncertainty surrounding Valeant's long term growth prospects and business model.
"We are confident in our ability to extend our track record, enthusiastic about the opportunities before us, and believe Allergan is well positioned to deliver compelling value to our stockholders," he added.
In a response, Valeant said it was disappointed by the decision and vowed to pursue a deal.