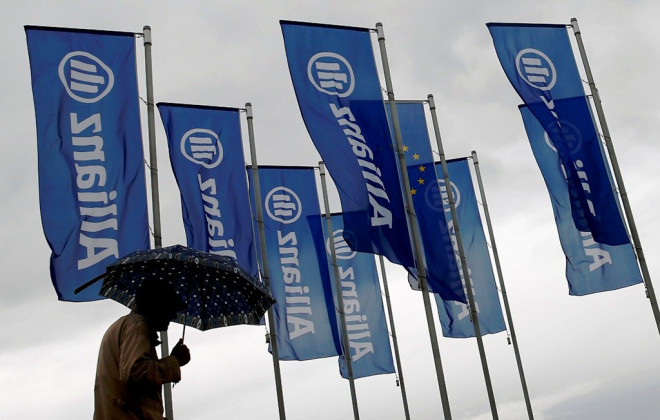 German insurer Allianz said operating profit at its asset management arm dropped 26.3% in the three months to March 2014 as its US-based Pimco unit suffered multi-billion dollar investment outflows during the first-quarter.
Operating profit in asset management dropped to €646m from €877m in the year-ago quarter, Allianz said on 14 May, as Pimco, which manages the world's biggest bond fund, logged net outflows of €21.7bn ($29.7bn, £17.7bn) between January and March 2014.
Europe's biggest insurer said its overall business achieved its highest-ever quarterly revenue of €33.96bn, a 6% increase over the year-ago period.
However, operating profit slipped 2.6% to €2.72bn from the previous year's historic high of €2.80bn.
Allianz chief financial officer Dieter Wemmer said in a statement: "As expected, the results in Asset Management came in lower, but the business is in line with our target for the year.
"Given its solid performance and the outperformance of both of our insurance segments, we remain on track to achieve our operating profit outlook for the full year of €10bn plus/minus €500m."
Allianz Defends Pimco
Munich-based Allianz Group is trying to bat away concerns over its troubled asset management firm Pimco.
Billions of dollars have been pulled out from Pimco funds amid weakening returns and reams of negative press coverage over a spat between co-founder Bill Gross and his chosen successor Mohamed El-Erian.
Allianz faced tough questions over Pimco at its annual general meeting last week, with some shareholders calling for it to get more involved in the world's largest bond fund to sort out its problems.
However, Allianz boss Michael Diekmann said there is "really no reason to be hard on us" because Pimco has one of the best long-term performances of all asset managers, despite the outflows and diminishing returns across 2013 and 2014. It remains a cash cow for Allianz.
The Gross-managed Pimco Total Return Fund, the world's largest bond fund, managed assets worth $230bn at the end of April 2014, down from a peak of $292.9bn in April 2013.