A frantic search is underway for a 2-year-old boy who was dragged into a lagoon by an alligator at a hotel near Florida's Disney World.
The toddler's panicked father struggled with the reptile in a futile effort to free his son from the alligator's jaws, said Orange County Sheriff Jerry Demings.
The boy was dragged into the Seven Seas Lagoon just south of the Magic Kingdom near Disney's Grand Floridian Resort at around 9pm on Tuesday 14 June. He was playing in the water as the parents watched nearby when the 7ft (2.1m) alligator attacked.
Florida Fish and Wildlife, Reedy Creek Fire Rescue, and the Sheriff's Office were conducting a search and recovery operation for the child. The mobilisation included several boats in the large lagoon and a helicopter aiming lights at the water and shore as a stunned crowd watched. Several emergency vehicles filled the area.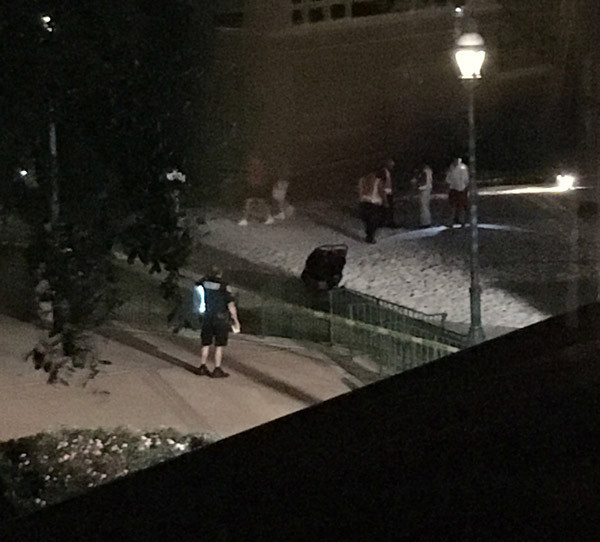 The child, whose name was not released by police, hadn't been found after a four-hour search, and hope for his survival is fading. Counselors met with the boy's parents, who were visiting the resort from Nebraska with their three children.
Police placed yellow crime-scene tape around the area to block it off as the search continued. The sheriff said there had been no recent reports of problem alligators, and he had never seen a similar case.
The hotel is an upscale luxury resort owned by Disney. It is one of three hotels on the monorail line, one stop away from the Magic Kingdom Park.
Hotel guest A.J. Jain and his family were visiting Disney World from Georgia and told the Orlando Sentinel that he and his children were playing on the beach near the scene of the incident earlier. "I'm just here to say a prayer," he said. "I can't imagine what those parents are going through. It's been one tough week in Orlando."
A Disney official said they were "devastated" by the event.
A population explosion in the reptiles has led to "more frequent alligator-human interactions, and a greater potential for conflict," said a spokesman for the Florida Fish and Wildlife Conservation Commission.