A victim injured in the rollercoaster crash at Alton Towers has described for the first time the "sickening bang" he heard as the ride's carriages collided following the accident.
Joe Pugh, 18, was with his girlfriend Leah Washington, 17, when the accident happened on Wednesday 3, June in Staffordshire.
University textile design student Pugh smashed both of his kneecaps and faces months of painful physiotherapy before he can walk again. The little finger of his left hand has been left useless.
He told the Mail on Sunday: "I remember a sickening bang with metal grinding against metal and the safety bar being rammed against my knees.
"I looked at my hands and there was blood everywhere. At first there was no pain, just numbness."
Washington, a sixth form college student from Barnsley in South Yorkshire, suffered the most serious injuries and had to have her leg amputated above the knee.
Pugh said the first indication that something was wrong came when he and the others on the ride had been forced to get off twice before it began so staff could carry out safety checks.
He also recalled there being a 20-minute delay when the rollercoaster paused on one of the loops.
"Given all that had gone on already, I said to Leah, "something's not right here – this shouldn't be happening."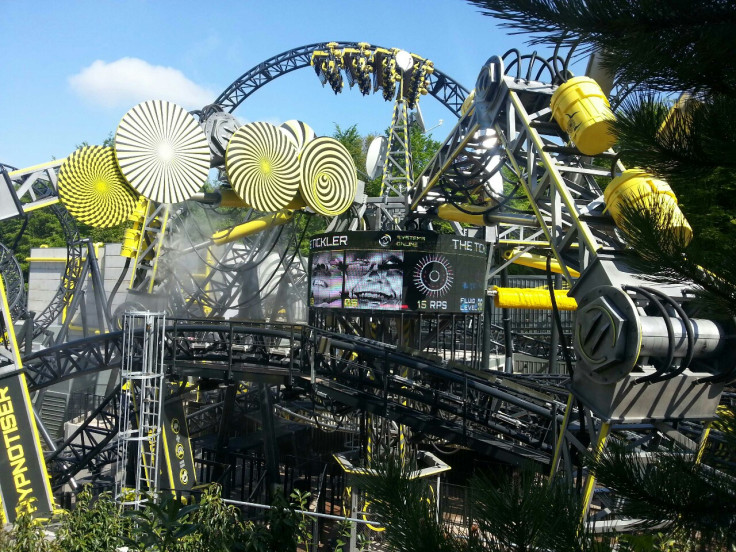 Daniel Thorpe, a 27-year-old old hotel assistant manager from Buxton, Derbyshire, 20-year-old Vicky Balch from Leyland in Lancashire, and Chandaben Chauhan, 49, of Wednesbury, West Midlands, also suffered injuries.
Alton Towers was closed for three days while investigations were carried out into the cause of the collision.
Pugh said he felt angry at the staff who failed to spot the big yellow empty train sitting on the track.
"After so many test circuits, there was clearly something going on, and they should have erred on the side of caution and shut down the ride.
"And why didn't someone realise it before they sent our train out there? These are simple things and serious questions have to be asked to ensure safety for the future."
He also described becoming annoyed when he saw witnesses filming the scene, "I just cannot understand why people would want to do a thing like that. It's so callous."
The young couple who had been going out for two months, decided to take a trip to Alton Towers, which was the first time they had left their home town of Barnsley, South Yorkshire, together.
Pugh recalled the moment they were reunited in hospital afterwards, "She asked me whether it would change anything between us and I said absolutely not.
"She was the same person as she'd always been, it wasn't as if her personality had changed or anything like that.
He added: "I want her for who she is and it would be very superficial if that changed over something such as her injury.
"We've both got a long road ahead of us as we come through this. We were together at the beginning, we're together now and we'll be together as we travel down that road – and we'll be leaning on each other every step of the way."