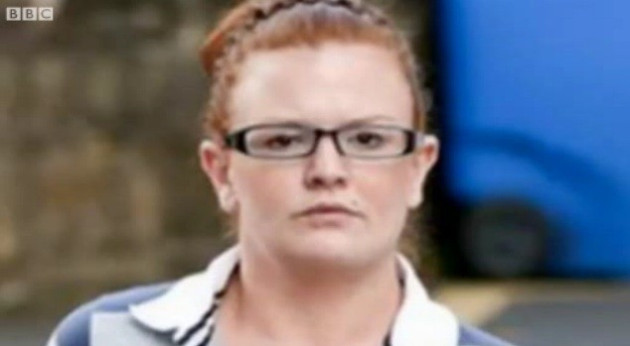 Alwen Jones has been sentenced to life in jail with a minimum term of 18 years for the murder of Emma Jones outside a block of flats in northwest Wales.
Alwen Jones, 24, was found guilty of murdering the mother-of-two in December 2011.
At Caernarfon Crown Court judge Mr Justice Griffith-Williams, said: "I have to determine the minimum term you must serve. I want to think about that overnight."
The jury of eight men and four women took two hours to reach the verdict. Alwen Jones had denied murder and manslaughter.
The court was told that defendant stabbed her victim to death in the village of Penygroes in Gwynedd. She told police that the victim deserved what happened to her.
Prosecuting QC Barry Murphy said that the defendant, from nearby Llanllyfni, had armed herself with a knife and gone to the victim's home after hearing that her 21-year-old sister, Grace, was in trouble.
Grace had been at a party at Emma's house and been asked to leave following a heated argument. Alwen Jones arrived at the house and shouted: "Come outside if you think you are hard enough, Emma."
The defendant insisted she had taken the weapon for protection because she "knew what type of girl Emma is". She told police that her "blood was boiling" and that she "flipped and went for her with the knife".
After stabbing the victim once, the defendant threw the weapon into a garden and went to her father's house, where she hid in a shed.
Emma Jones was taken to Gwynedd Hospital where she was pronounced dead.
The defendant's QC, Elwen Evans, said: "[Alwen Jones] would wish to make it abundantly plain to the family of the person she killed, to her family, and to the community of Penygroes that she deeply and acutely regrets her actions and is profoundly remorseful."
Some members of the jury shouted "yes" when the guilty verdict was announced. Alwen Jones, who was flanked by police officers, showed no emotion.