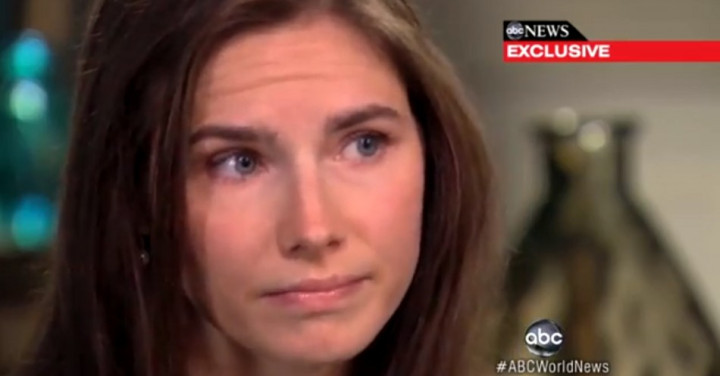 Amanda Knox has taken to the airwaves to stress again that she was not involved in the murder of British student Meredith Kercher - and to plug her book about the case.
Italy's top criminal court has ordered a retrial for the 25-year-old American student and her former Italian boyfriend Raffaele Sollecito for the 2007 murder of Kercher.
Knox told ABC TV that she would like "to be reconsidered as a person". She dismissed claims that she was a "she-devil and heartless manipulator".
"It's one thing to be called certain things in the media, it's another to be sitting in a courtroom, fighting for your life, while people are calling you a devil," she said.
The prosecution case is that Kercher was killed by Knox, Sollecito and a young drifter from the Ivory Coast, Rudy Guede, because she had refused to take part in a brutal sex game.
Kercher, 21, from Croydon, south London, and Knox shared an apartment in the university town of Perugia, central Italy, where they were exchange students.
In her book Waiting to be Heard: A Memoir, for which Knox reportedly landed a $4m (£2.6m) advance, Knox, who has returned to her family home in Seattle, said she and Kercher were good friends.
"We never argued about anything," Knox wrote. "I treated Meredith as my confidante. Meredith treated me with respect and a sense of humour. The only awkward interaction we had was when Meredith gently explained the limitations of Italian plumbing."
Kercher was found with her throat cut. The prosecution said she had been sexually assaulted before she was killed.
Acquitted on appeal
Knox and Sollecito were arrested in 2007 and sentenced to 26 and 25 years respectively. Guede was given a 16-year sentence at the end of a separate trial and is serving out his sentence in a Viterbo jail.
Knox and Sollecito were later acquitted by an appeal court that criticised the prosecution case.
Knox flew back to Seattle where she is studying at the University of Washington. Sollecito resumed his computer science studies.
"For all intents and purposes, I was a murderer - whether I was or not. And I had to live with the idea that that would be my life," Knox told ABC.
The Supreme Court of Cassation in Rome quashed the acquittal and remanded the case to a new appeal court trial to take place in Florence.
In her memoir Knox maintains that as Kercher was being killed she was at Sollecito's flat smoking marijuana and watching a movie. Sollecito has always denied any involvement in the murder.
Knox might be retried in absentia as Italian law cannot compel her to return for a new trial but prosecutors may ask the US to extradite her.