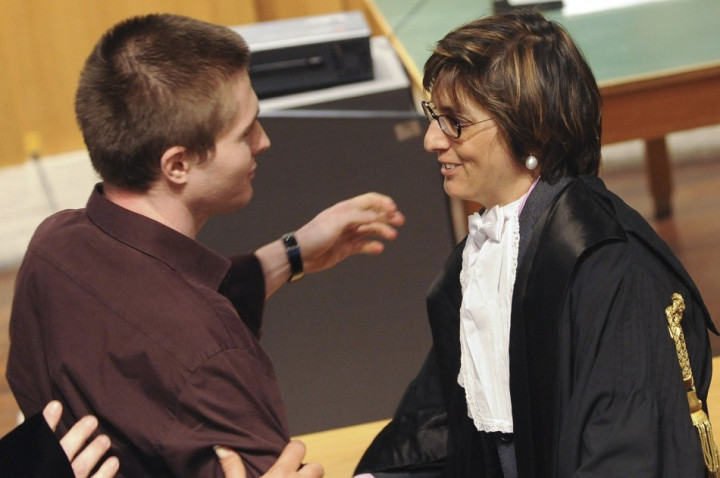 The former boyfriend of Amanda Knox has appealed online for cash to pay his legal bills in the forthcoming retrial for the murder of British student Meredith Kercher.
Sollecito, 29, launched a crowd-funding campaign to collect $500,000 (£323,000) he said would fund his defence.
"The problem for me now is pretty tough," Sollecito wrote on his Facebook page and on the fundraising website GoFundMe.
"I do not have financial resources any more to fight this injustice. I badly need to be able to hire experts, pay my attorneys' fees, document fees and so on when the new appeal begins.
"I am asking for your collaboration to face this ordeal. I do not want to be forced to give up my fight for freedom just for financial reasons," he wrote.
In 24 hours Sollecito received donations from more than 50 people, ranging from $5 to $1,000 and totalling more than $4,200.
A number of sympathetic comments were posted by donors on the campaign page though some others criticised the initiative.
Sollecito's lead attorney, Giulia Bongiorno, has a reputation for being one of the best and highest-paid lawyers in Italy.
Bongiorno has represented among others Italy's late prime minister Giulio Andreotti, sparing him from conviction in a trial over his alleged links with the mafia, football star Francesco Totti, and Italy's unrecognised royal family heir, Vittorio Emanuele di Savioa.
In 2011, Italian newspaper Correire della Sera wrote that Bongiorno charged €800 (£682) an hour for her legal services.
"My lawyers have been following the case for five years now and it would be madness to change them: no one in the world knows the case's files better than them," Sollecito wrote.
He has pledged to certify all expenditure and to donate leftover cash to an unnamed research foundation.
Knox and Sollecito were arrested in 2007 for the killing of Knox's flatmate Kercher, 21, in Perugia in central Italy.
Prosecutors believed Kercher had been killed by the couple and a third man, Rudy Guede, a young drifter from the Ivory Coast, because she had refused to take part in a brutal sex game.
Guede was sentenced to 16 years in a separate trial and is serving his time in a Viterbo jail.
Knox and Sollecito were first sentenced to 26 and 25 years respectively but later acquitted on appeal.
On her release Knox flew back to her hometown of Seattle and signed a multimillion-dollar book deal for her memoir, Waiting to be Heard, which hit the shelves earlier this year.
Sollecito resumed his computer science studies and founded a company for the production of movie screenplays in Switzerland. However, Swiss authorities revoked his resident permit because of faulty documents.
In March the Supreme Court of Cassation in Rome quashed the acquittal ruling and remanded the case to a new appeals court trial that is to start in Florence in October.
Knox and Sollecito have always denied any involvement in the murder. They were pictured embracing and walking side by side around New York recently.