People living along the California coast have been treated to a living light show as tiny glowing phytoplankton lit up the waves at Big Sur. Photographers George Krieger and Brian Mack captured the microscopic bioluminescent organisms between Monday 5 and Thursday 8 February 2018.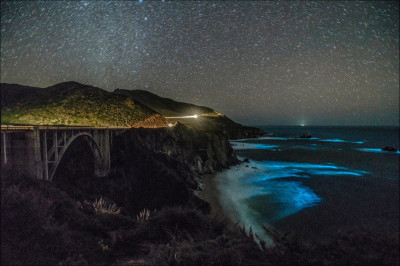 On his Facebook page, Krieger posted a time-lapse of the glowing waves lighting up the night along the coast in Big Sur.
Remarkably, Krieger also managed to capture the final burn of the second stage of the SpaceX rocket that had been launched 90 minutes earlier from Florida.
Steve Haddock, a bioluminescence specialist at the Monterey Bay Aquarium Research Institute, told CNN affiliate KSBW that reports of glowing waves down the California coast have spiked since early January, probably because of a combination of high nutrient rates and calm conditions. He said once the wind picks up, the bloom will be dispersed. So locals and tourists should get down there soon to experience nature's marine light show.