Key Features:
8.9in display (2560 x 1600)
Mayday video support
7.8mm, 374g
Fire OS 3.0
Quad-core 2.2GHz processor
Price as reviewed: £329
---
Kindle Fire HDX 8.9 Review
---
Android tablets in general have not had the same success at challenging Apple's dominance in the space as Android smartphones have had in challenging the dominance of the iPhone.
The main reason is the lack of tablet-specific apps available in Google's Play store compared to the hundreds of thousands of iPad-optimised apps in the App Store.
Amazon's way around this is to take Android and change it so completely as to make it unrecognisable as Google's software.
Amazon's Fire range of tablets have been an attractive option so far thanks to their low price and relatively high specs.
With the latest range of tablets, Amazon is looking to build on that success with sleeker designs and innovative new features.
---
Kindle Fire HDX 8.9: Design
---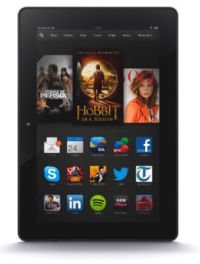 I never liked Amazon's larger tablet. The original Fire 8.9 was a bit ugly and at 567g weighed you down. I'm glad to say the Kindle Fire HDX 8.9 is an entirely different beast.
Slimmed down to just 7.8mm, and more than 200g lighter, the new tablet is simply beautiful. It proportions make it feel more like a 7in tablet than a 9in one with the bezels around the screen significantly smaller than the original.
The bevelled rear is a combination of matte black plastic with a high gloss strip along the top. It makes the tablet easy to hold and the positioning of the volume and power/screen lock buttons on either side of the back cover is a great choice.
I complained last year about the problems I had finding the buttons on the original Kindle Fire, but there is no problem with the the new model once you get used to them.
The Kindle Fire HDX 8.9 looks and feels like a premium product and Amazon has done a great job is giving this tablet a significant makeover.
---
Kindle Fire HDX 8.9: Screen
---
For some people a 7in screen like the Nexus 7 is ideal; for some the 9.7in iPad screen is perfect, while others like the larger 10.1in screen offered by the Samsung Galaxy Note 10.1.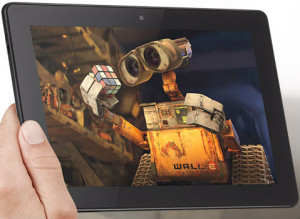 For me, the screen on Amazon's Kindle Fire HDX 8.9 offers the perfect balance between size and portability. It is great for watching TV and films on the move, and its reduced size and weight make it perfect for travelling.
Add to that the frankly ridiculous screen resolution of 2560 x 1600 pixels giving it a pixel density of 339 pixels per inch (ppi) - the iPad Air for comparison has a pixel density of 264ppi - and it is just about perfect for consuming content.
The screen is also incredibly bright and sharp with flawless viewing angles thanks to the IPS technology. It is, in short, probably the best screen I've ever seen on a tablet.
---
Kindle Fire HDX 8.9: Hardware & Performance
---
Along with a super high resolution screen, the Kindle Fire HDX 8.9 has been equipped with a powerful quad-core 2.2GHz Snapdragon chip from Qualcomm along with 2GB of RAM.
It means everything from gaming, HD video streaming and multitasking works flawlessly. The tablet also comes with dual-band, dual-antenna Wi-Fi for faster connectivity, there's also a 4G version available.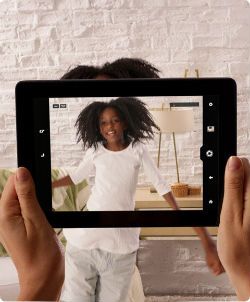 Both front and rear cameras are HD resolution, with the rear camera on the Kindle Fire HDX 8.9 featuring an 8 megapixel sensor which can capture Full HD video.
The speakers on the tablet are located on the rear cover and are nothing to write home about, meaning earphones are a must when watching a film.
Battery life is pegged at 12 hours of mixed use or 18 hours of reading and while I didn't quite get that amount of time out of the tablet, I did get between 8 and 10 hours of video playback which is adequate.
---
Kindle Fire HDX 8.9: Software
---
As I said, the Kindle Fire range of tablets are Android-based, but Amazon has forked the software so much as to be unrecognisable. The Fire OS 3.0 which is used on the new Kindle Fire models is not a radical change to previous versions with the carousel of content still front and centre.
I don't particularly like this way of doing things but it does mean your most recent content is always easily accessible.
Amazon doesn't give you access to Google's Play store replacing Google's offering with its own app, music, film and book libraries.
This, Amazon says, makes content the priority but it also of course means Amazon will be able to reap the financial benefits from anything sold on these stores.
Fire OS is still a work in progress but Amazon looks set to continue to develop it rather than falling back on the standard Android interface.
---
Kindle Fire HDX 8.9: Mayday and FreeTime
---
One of the unique features of Amazon's new tablets is Mayday, a video support service which gives you instant access to customer services representatives.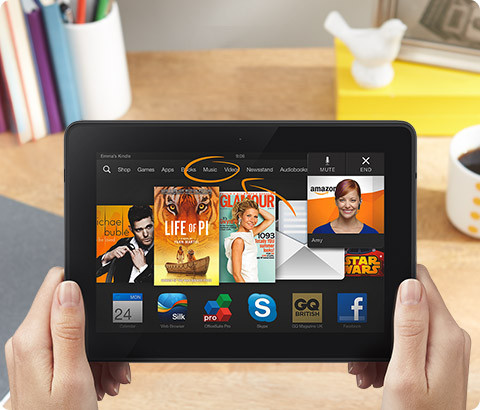 The system sees a small video window pop up on your Kindle which shows you a video of one of Amazon's representatives, but while you can see them they can't see you.
They can however see your Kindle's screen to help you solve whatever problem you are having. They can even manipulate your screen to make it easier to show you how to do things.
The few times I used the service my call was answered within seconds and the customer service agents were friendly and helpful.
While it's a little disconcerting at first, the system works well and for those new to tablets - especially the Kindle Fire system - it is a godsend.
FreeTime is Amazon's way of allowing parents to control the amount of time their children use the tablet for, allowing them to set time limits for reading and playing games, and even setting a Bedtime for their children.
It also limits what type of content can be accessed giving you complete control over what children can and can't access.
---
Kindle Fire HDX 8.9: Value and Verdict
---
The Kindle Fire HDX 8.9 costs £329 for the Wi-Fi only 16GB version (though to get the model without ads showing up on every lock screen it'll cost £10 more).
This is £70 cheaper than a similar iPad Air with the Kindle Fire HDX 8.9 offering a comparable product in terms of hardware quality.
The problem is the software. While Amazon offers its own range of books, apps and music, there is no option to download films to watch offline at the moment, with only LoveFilm or Netflix streaming available - though you can download a small selection of BBC programmes through its app to watch offline if you live in the UK.
For a tablet so perfectly suited to watching films and TV, this is a real shame. You can of course transfer films from your laptop to watch, but native codec support is limited.
The Kindle Fire HDX 8.9 is Amazon's best tablet to date. Beautifully designed and built with a superb screen and excellent Mayday service, it offers a viable alternative to Apple's iPad.
However the lack of a film download store and no access to Google Play, mean this tablet won't be for everyone.
---
Scores
---
Screen: 10/10 - Bright and clear, the 8.9in screen is the best I've seen on any tablet
Design: 9/10 - Slimmer and considerably lighter than the original, it looks and feels great.
Performance: 9/10 - The Snapdragon chip is powerful and paired with 2GB of RAM, everything runs smoothly.
Value: 8/10 - At £329 it may look expensive against its smaller sibling (which costs £199) but considering the hardware, this is still good value for money.
Software: 7/10 - Amazon's take on Android is still a work in progress, and the lack of a film download store is disappointing
Overall: 8/10 - One of the best Android tablets I've seen, but issues with the software hold it back slightly.
---
The Good
---
Superb screen
Sleek and lightweight
Excellent Mayday support service
---
The Bad
---
No option to download films directly
Fire OS still a work in progess