Key Features:
7in display with 1920 x 1080 resolution
Mayday video helpline
Quad-core, 2.2GHz processor
9mm thick, 311g weight
Price as reviewed: £199
---
Kindle Fire HDX Review
---
It comes with a healthy dose of irony that I had to use the Kindle Fire HDX's new Mayday video helpline before the tablet would work properly. For whatever reason, my review unit of Amazon's newest 7in tablet wouldn't let me install any games from the Amazon Appstore without crashing.
However, a quick call (connected to a high quality webcam feed in a matter of seconds) to the tablet's free Mayday service and my Kindle was working properly in no time.
It's a seamless experience, with the Amazon representative (shown on screen and able to hear but not see me) taking control of my Kindle, annotating the screen to help me through the menu system, and generally saving those all-important first impressions.
Rewind a few minutes, and even before I turned the Fire HDX on I was impressed by the tablet's sense of quality. Pitched as a more premium alternative to the regular Kindle Fire HD, the HDX offers a higher resolution screen, more powerful processor, longer battery life, more storage and the addition of a front-facing camera.
All told, the HDX brings a lot more to the party than its cheaper stablemate, although at £199 it still displays advertisements on the lock screen, a 'feature' which can be turned off for £10.
---
Kindle Fire HDX: Design
---
Shunning sleek and curved for blocky and angular, the Amazon's designers have clearly tried their best to make the Fire HDX stand out from an all-too generic looking crowd - and they've mostly succeeded.
The tablet's rubberised back and angular sides mean it can be securely held in one hand, while the glossy black Amazon logo and accent along its top edge make for a smartly designed tablet.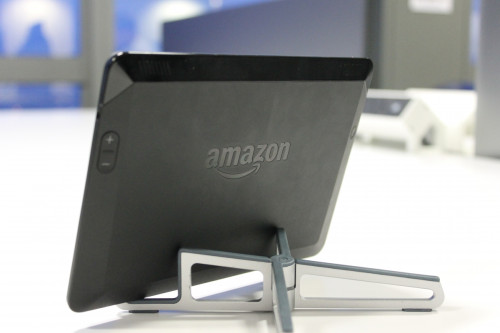 In a bid to further distance itself from generic rivals, the HDX's power and volume buttons are on the back, and while this makes some ergonomic sense, remembering which side houses which buttons takes longer than you'd think.
There's a microUSB port on the left, a headphone jack on the right, a front-facing HD camera above the display - and that's about it.
---
Kindle Fire HDX: Screen
---
The Kindle's screen is its stand-out feature, with a full-HD resolution of 1920 x 1200 giving it a pixel density of 323 pixels per inch - just three less than the iPad mini with Retina display.
What these numbers mean in reality is a beautifully sharp screen making text elegantly rounded and images pop out with accurate colours and a wide viewing angle.
My only complaint is the brightness; while fine for indoor use, the Kindle suffers as many other tablets do when you take it outside, making reading in sunlight uncomfortable.
---
Kindle Fire HDX: Hardware & Performance
---
The HDX's quad-core 2.2GHz processor and 2GB of RAM gives the Fire HDX all the power it needs to open apps and multitask between them quickly, play HD video smoothly, and run intensive 3D games without slowing down or dropping frames.
After the initial technical glitch with my review unit - fixed by Mayday support - the tablet ran perfectly for the week I lived with it.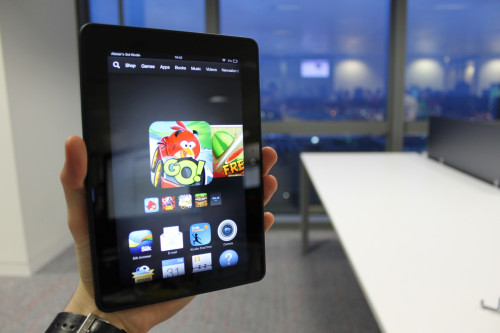 I've really no complaints with how the Amazon tablet performs; it's quick, responsive and does everything you would expect. Unlike the bloated customer user interfaces of some Android devices, the forked version Amazon has developed is as fast as the Nexus 7's unmodified version of Google's operating system.
The HDX comes with dual-band Wi-Fi for increased browsing and download speeds, while all three storage sizes come with the option to include 3G mobile internet, or 4G where available.
Amazon claims the HDX will provide 11 hours of mixed use or 17 hours of reading from a single charge, and I'm inclined to agree with these figures; through mixed use of video, web browsing over Wi-Fi and gaming, I only needed to charge the tablet a couple of times each week.
---
Kindle Fire HDX: Software
---
While you could be forgiven for thinking most 7in Android tablets look and act the same, the Kindle Fire's user interface is where Amazon makes a bold move against the grain. The tablet runs a so-called 'forked' version of Android, known as Fire OS 3.0 (Mojito).
Being forked, the HDX - like all Kindle Fires before it - does not have access to the Google Play store. Instead, Amazon has its own digital marketplace for users to download apps, games, music, magazines, newspapers and ebooks.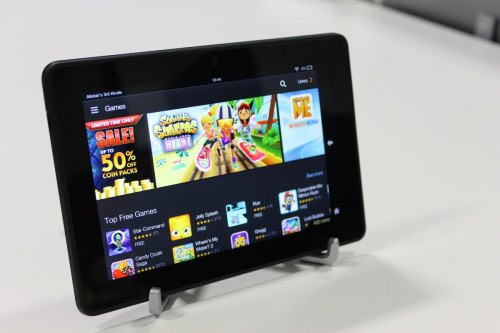 While nearly all of the most popular games (Temple Run, Angry Birds, Cut The Rope etc) are present, correct and play just as they do on regular Android, the Kindle Fire's film and TV catalogue is provided by Amazon sibling LoveFilm - and this means stumping up £5.99 per month.
Alternatively, there is a Netflix app for Kindle Fire, although you won't be able to download content from there to watch offline.
Criticising the Kindle Fire's lack of Play Store access was always reviewer shorthand for why you should buy a 'proper' Android tablet instead - but Amazon's app and game selection has improved and only those who depend on Google's own applications (Gmail, Chrome, Maps etc) will flag this up as a genuine shortfall.
The lack of Google Maps, Gmail and Chrome is a shame, but for the less technologically-savvy Amazon's alternatives will mostly suffice.
---
Kindle Fire HDX: Value & Verdict
---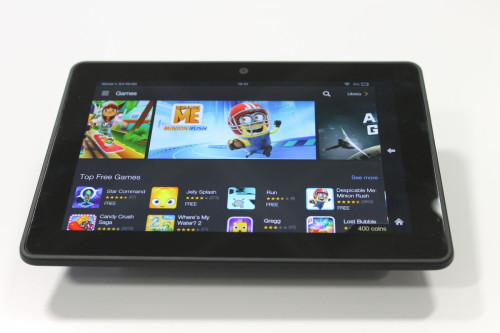 At £199, the Kindle Fire HDX 7.0 is the same price as the Google Nexus 7 - both tablets have Wi-Fi and 16GB of storage, but remember the Kindle will display adverts on its lock screen unless you part with another £10.
From there, the Fire HDX stays within £10 of the Nexus 7 right through the range - and adds a 64GB version which the Google tablet can't match. As neither tablet has a microSD card slot for expanding storage, those looking to carry a large music/film library might want to consider the Kindle's high-end option.
Other than storage size, the only real deciding factor between the two is whether you want standard Android with the Play Store, or you prefer Amazon's custom version with its own app catalogue. For those happy to stick with Amazon's ecosystem and who might not use any of Google's services, the HDX 7.0 is a fine tablet with an excellent screen, high build quality and seamless integration with all of Amazon's digital products.
But for the full Google and Android experience, it is the Nexus 7 that offers the whole package.
---
Scores:
---
Screen: 9/10 - Excellent, high quality screen only let down slightly by a backlight which struggles with outdoor use.
Design: 8/10 - Angular back and sides made for an interesting design which makes it stand out from the competition. Rear-mounted buttons can be a pain to locate first time.
Performance: 9/10 - As smooth and responsive as anyone would need a tablet to be, with good battery life. A point lost for initial set up problems
Value: 8/10 - Well priced, but Amazon requires an extra £10 to remove adverts.
Software: 7/10 - A difficult one. Perfect for heavily invested Amazon fans, but lacks Play Store for everyone else.
Overall: 8/10 - Excellent tablet with good design and a great screen, only let down by a limiting operating system that isn't for everyone.
The Good:
Weird at first, but Mayday works perfectly
High quality, interesting design
Excellent screen
The Bad:
No Play Store
No expandable storage
Removing adverts costs £10