It looks like Amazon has been busy working out the practicalities of its drone-based delivery service, with a newly-surfaced patent filing revealing details on how city infrastructure could be transformed into docking stations and delivery receptacles for its air mail UAVs.
Amazon Prime Air seemed pie-in-the-sky when it was first announced in 2013, but now the project is moving along at full steam. That said, there are still a few kinks to iron out on the practical side of things, namely how the company plans to ensure its drones can get packages safely into the hands of recipients without posing a safety hazard or being a burden to the ebb and flow of modern living.
The United States Patent and Trademark Office (USPTO) filing details how tall buildings and structures could be turned into docking stations for Amazon's Prime Air drones, including radio towers, street lights, phone masts and church steeples.
These would provide charging points and would also allow the drones to calibrate navigational info and communicate with Amazon's central control system.
Some of these docking stations would contain built-in receptacles allowing drones to drop packages into a secure locker or, in the case of office buildings, into a delivery chute that transports packages safely down to the ground floor for collection.
Others would offer covered shelters where several drones could sit out particularly nasty weather; the patent even describes a weather station docking system that would provide the drone with data on local conditions.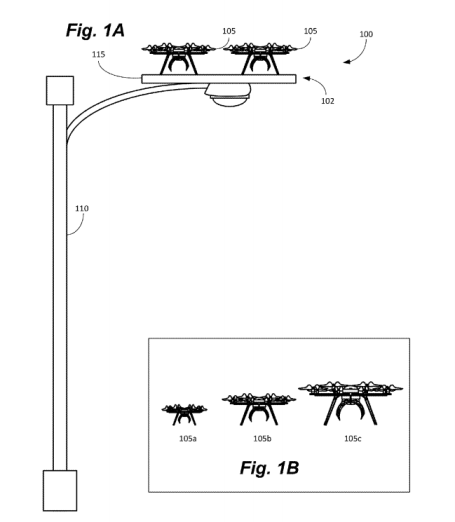 For particularly long journeys, or in the event that a drone malfunctions en route to its delivery point, the patent describes how an Amazon drone could dock on a platform and send logistical data to another unit. This would then be dispatched to pick up the package and continue on the final leg of the journey.
Ready for take off?
While the patent mostly describes the delivery of small packages, the filing adds that the system could "just as easily be used to deliver groceries, mail, movies, prescriptions and other items." It also explains that the docking station concept could be applied to ground-based autonomous delivery systems.
As with all patents, there's no guarantee that the concept will come to fruition in the form outlined in the document. That said, the patent is dated 12 July, meaning this is how Amazon envisions in the system in its most current form. There's still no official word on when Amazon Prime Air will officially launch, but it's starting to look a lot closer to reality.
Would you trust a drone to deliver your mail? Let us know @IBTimesUKTech