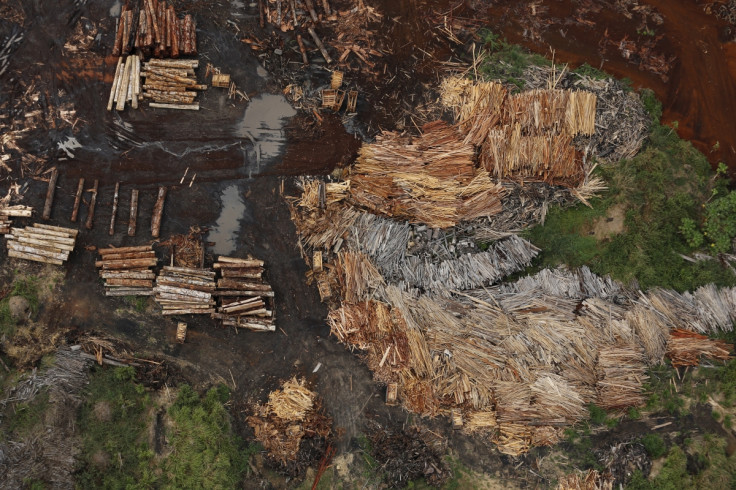 Brazil's Amazon rainforests — the largest in the world, get smaller each year. A report based on satellite data from July 2014 to August 2015, showed deforestation of over 5,831 sq km. Taken aback by the 16% increase in deforestation in just one year, Brazil's Environment Minister Izabella Teixeira has called a meeting of governors of the states affected the most to discuss the situation. "Pressure for more logging is again strong and coming from agriculture and livestock activities," Teixeira said.
The report released by Brazil's environment ministry comes at a sensitive time — days before the UN Climate Change Conference in Paris where representatives from across the globe will work on hammering out a new global climate agreement.
The Amazon is a treasure trove of biodiversity, representing over half of the planet's rainforests, with the largest collection of varied species of plants and animals. With demand for land constantly mounting, vast stretches of the forest have been razed, destroying numerous ecosystems and displacing animals. A study published by the American Association for the Advancement of Science (AAAS) in October estimated that over half the species of trees in the Amazon are on the verge of extinction.
"Forests in the Amazon have been declining since the 1950s, but (until now) there was a poor understanding of how this has affected populations of individual species," said Carlos Peres at the University of East Anglia, one of the 158 scientists from 21 countries who worked on the study.
The research predicted that "At least 36% and up to 57% of all Amazonian tree species are likely to qualify as globally threatened under International Union for Conservation of Nature (IUCN) Red List criteria. If confirmed, these results would increase the number of threatened plant species on Earth by 22%."
Even though deforestation of the Brazilian Amazon has increased, it still remains lower than what it was a decade ago after the government introduced tougher measures. In 2004, almost 30,000 sq km was lost to deforestation.
Brazil has 60% of the rainforest area, but Amazonia extends into other countries like Peru with 13% and Colombia with 10% along with minor stretches in Venezuela, Ecuador, Bolivia, Guyana, Suriname and French Guiana which have witnessed relentless deforestation.
While reporting on the projected forest loss, the AAAS study said: "The business-as-usual (BAU) scenario model estimates that, by 2050, 40% of the original Amazon forest will be destroyed if proper regulations are not put in place to preserve it."