Amber Rudd promises £140m migration impact fund to help public services
Gordon Brown introduced a similar scheme while in power but it was scrapped by the Coalition Government.
A confident Amber Rudd took the stage at the Conservative conference in Birmingham to announce that the government will introduce a new £140m ($178m) migration impact fund to alleviate pressure on public services.
The Home Secretary's speech was well-received by Tory activists, apart from when she mentioned her campaigning for Remain at the EU referendum.
Beyond that hiccup, Rudd's policies won over the Conservative faithful.
In particular, her confirmation that the government would stick to David Cameron's net migration target of "tens of thousands" won applause, as did the new 'Controlling Migration Fund'.
The initiative is similar to a scheme introduced under Gordon Brown's government, which was scrapped by the Coalition Government.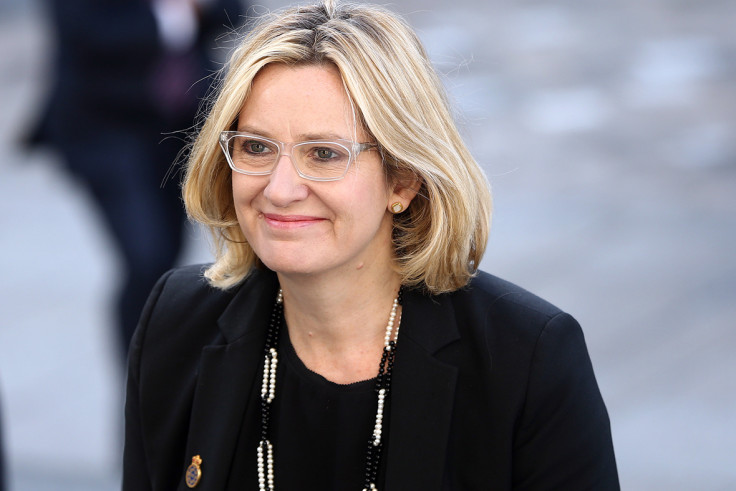 But Rudd distanced her project from Labour's efforts. "Labour's fund was ineffective and focused funding on migrants rather than the pressures caused by migration," she said. "Money was spent on translation services, rather than English lessons. Councils were given money to promote recycling, rather than the support they needed to ease housing pressures."
IBTimes UK has asked the Home Office for finer details on the scheme, including the period the £140m figure relates to. Official figures from the Office for National Statistics (ONS) show net migration levels have been continually higher than 300,000.
Elsewhere, Rudd promised to "implement strategies" to slash illegal immigration and to crack down on "rogue" landlords, who house illegal migrants in the "most appalling conditions".
On terrorism, the Home Secretary said her intelligence briefings "tell me how dangerous the threat from Daesh really is", with a pledge to maintain security cooperation internationally. "Our security services have prevented the kind of awful attacks we are seeing too often on the world stage," she said. "My first statement in Parliament as Home Secretary followed the attack on Nice. A crude and primitive act, where innocent people were murdered by a radicalised individual.
"Lives ruined. Families broken. France forever scarred. It could have been any of us at a different time in a different place. The one clear lesson from this is that international co-operation and intelligence sharing must continue, and continue to improve."
UPDATE: 14:30 BST
Durham University's Professor Thom Brooks told IBTimes UK he thought the scheme would "raise not much more than the original migration impact fund the Tories scrapped only weeks into office"
He said: "Seems to achieve lower migration by punishing students - closing Britain's doors to the world we're supposed to embrace post-Brexit. Oh and can limit student visas without Brexit. So how will she 'take back control'? A farce."
© Copyright IBTimes 2023. All rights reserved.