Martin Schulz will not seek a third term as the president of the European Parliament in January, the German politician announced on Thursday morning (24 November).
The 60-year-old, who was first elected to the top post in 2012, will run for a seat in Germany's Bundestag in 2017.
"Over the last months there has been a lot of speculation in the press about my future. I have now made the decision. I will not run as president of the European Parliament for a third term," he said.
"I have strived to strengthen the credibility and visibility of European politics and the influence of the directly elected European Parliament."
The left-winger's dramatic move casts doubt over the future of European Commission President Jean-Claude Junker. He had apparently threatened to resign if a Conservative MEP succeeds Schulz.
A candidate from the European People's Party group is most likely to fill the post, which would leave the EU's big three institutions led by centre-right politicians, with Donald Tusk overseeing the European Council.
It is also unclear what direction Schulz's political career will take.
His Social Democratic Party is led by Sigmar Gabriel, but Schulz could seek the post and challenge Chancellor Angela Merkel and her Christian Democratic Union party at next year's elections.
Vincenzo Scarpetta, a senior policy analyst at the Open Europe think-tank, told IBTimes UK that Schulz has the ambitions to seek a national-level role.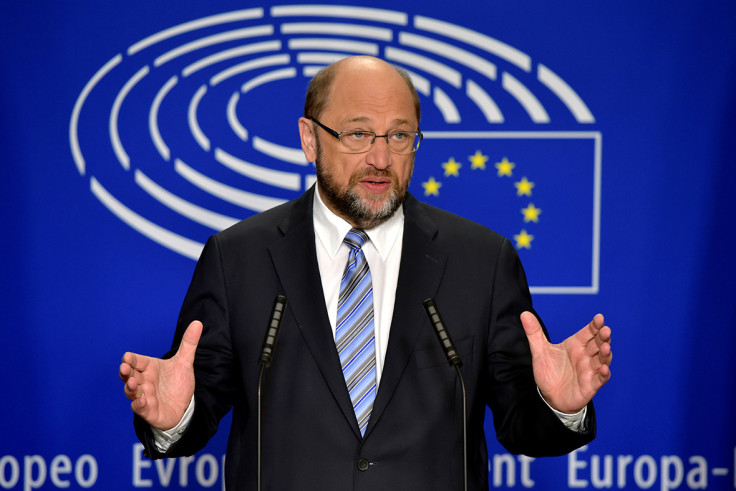 "It's clear that Schulz is looking to do something big," he said. "That list includes potentially being the Chancellor candidate for the Social Democratic Party. He needs to earn it because at the moment the candidate is someone else."
Schulz's decision also means that he will not oversee the European Parliament's negotiations with the UK.
British Prime Minister Theresa May has promised to trigger Article 50, the official mechanism to split from the EU, by March 2017.
Former Belgium Prime Minister and senior MEP Guy Verhofstadt is leading the talks for the European Parliament.