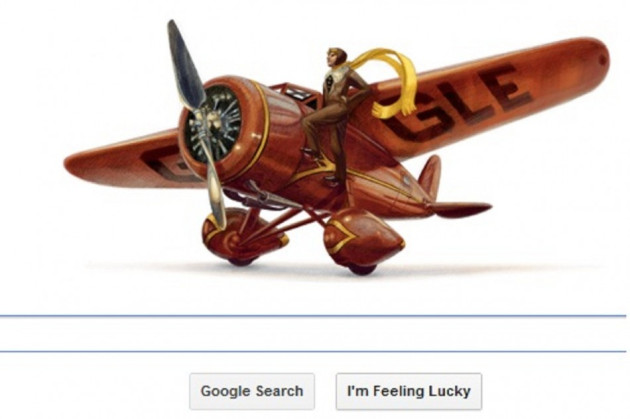 Google is celebrating the 115th birthday of Amelia Earhart, the first woman to fly solo over the Atlantic, with a doodle image of the US aviator preparing to climb aboard her Lockheed Vega 5B monoplane.
Earhart flew solo from Newfoundland in Canada to Culmore in Northern Ireland in 1932, a first airborne Atlantic crossing by a woman.
The achievement earned her America's Distinguished Flying Cross, and catapulted her to national fame - which she used to campaign for women's rights, and set up an organisation for female pilots.
In 1937, she disappeared with her Lockheed Model 10 Electra over the Pacific Ocean near Howland Island, during an attempt to fly around the world.
"I have a feeling that there is just about one more good flight left in my system, and I hope this trip is it," she said before embarking on the flight, which, had it reached completion, would have made her the first aviatrix in history to circumnavigate the globe.
Born in Kansas on 24 July, 1897, she was later called Lady Lindy by the US media because of her resemblance to aviator Charles Lindbergh.
In her childhood, Earhart was not impressed with aeroplanes or the idea of flying. "It was a thing of rusty wire and wood and looked not at all interesting," a 10-year-old Earhart commented when she first saw a plane at a state fair. But in 1920, she took a short plane ride at a California air show, and immediately fell in love with aviation.
"By the time I had got two or three hundred feet off the ground, I knew I had to fly," she said of the experience.
In addition to her Distinguished Flying Cross, the first ever given to a female aviator by the US congress, Earhart received the Cross of Knight of the Legion of Honour from the French Government, and the Gold Medal of the National Geographic Society from US president Herbert Hoover.
A year after her disappearance, a lighthouse was built on Howland Island in her memory. Earhart is still remembered across the US, with several streets and schools named after her and numerous scholarships and awards established in her name.