Amelia Jones murder: Man jailed for killing baby granddaughter 'because he hated her father'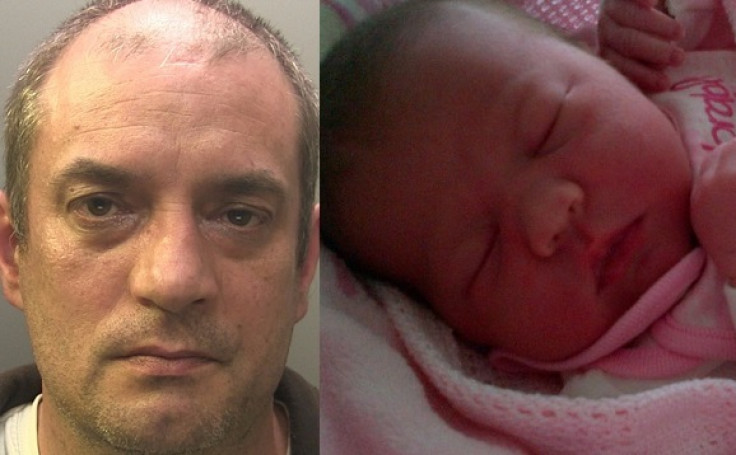 A man who lied about having cancer to get back in touch with his daughter has been found guilty of killing her 41-day old baby.
Mark Jones, 45, has been sentenced to 25 years in jail for murdering his granddaughter Amelia Jones because he hated the baby's father.
Jones, 45, of Torfaen, south Wales, was found guilty of attacking the baby girl when looking after her while her mother Sarah Jones, 26, went to the cinema.
Amelia died from a fatal blow to the back of the head, and also suffered a skull fracture, brain swelling and multiple rib fractures. The injuries happened in November 2012. During the trial, Newport Crown Court heard how the girl suffered these violent attacks "on at least three occasions" before she died.
Jones denied murdering the baby and claimed the injuries were a result of him accidentally dropping her. The court heard how Jones killed Amelia because of an intense dislike of the baby's father, Ian Skillern.
During the trial, the court heard how Jones had lied about being diagnosed with a terminal illness in order to wean his way into his daughter's life.
Described as a liar of "Oscar-winning talent" Jones kept up the facade pretending to pass out in front of his daughter and also ringing her up and pretending to be a doctor.
Jones even walked around with a crutch he did not need and taped plastic tubes to his chest to keep up the pretence.
Upon sentencing, Judge Wyn Williams said Jones has shown no remorse for his his "wicked and despicable" actions.
He said: "It may well be that you are never released from prison or if you are, you will be a very old man."
In victim statements read to the court, Amelia's mother said her daughter's murder has "ripped apart" the family.
She added: "I've not only lost Amelia, I've lost my father. I will never ever speak to Mark Jones again. As far as I'm concerned, he's not my father. I would describe the last two and half year of my life as a nightmare, which I can't escape."
The parents added in a statement: "No result delivered today is going to bring Amelia back, she is greatly missed by all of us. Our children talk and ask questions about her every day. She is, and always will be a massive part of our family and we hope she is never forgotten.
"To be let down in such an extreme way by a parent, someone you should be able to rely on and have complete trust in, only adds to making Amelia's death all the more difficult to come to terms with.
"Mark Jones is a deceitful and manipulative individual, and although it is little comfort after what we have been through, we are pleased to see justice being done today for our little girl."
© Copyright IBTimes 2023. All rights reserved.