Thai and American troops drank cobra blood and ate scorpions during an annual war games event in Thailand on Monday (19 February).
The 10-day Cobra Gold exercise is currently in its 37th year and sees military representatives from across South Asia and the US undertake amphibious and jungle training near a Thai naval base in Conburi province, some 50km (31 miles) south of Bangkok.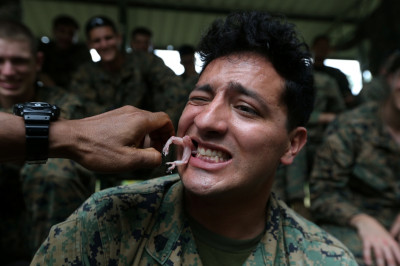 Some 6,800 US military personnel have travelled to take part in the event - double the figure of the event last year. Members from 27 other nations, including South Korea and Japan, also took part.
American troops are forced to leave their comfort zone as they are taught by Thai trainers on how to de-venom snakes, eat tarantulas, find water in the deep jungle and identify edible plants.
Soldiers were pictured eating geckos and drinking blood from a decapitated cobra which was then grilled and eaten as part of a team-building exercise.
"Definitely my first time drinking snake blood ... It's not something we do too often in America," US Sergeant Christopher Fiffie told AFP. "I think I'll be able to hold my own out there. The biggest take was how exactly they get their water as well as the vegetation that you can eat."
Thai Sergeant Major Chaiwat Ladsin said "The key to survival is knowing what to eat."
Relations between Thailand and Washington have cooled in recent years following a junta takeover in 2014 which saw the US urge an immediate return to civil democracy. The election of Donald Trump has seen ties improve, however, as his administration relaxes diplomatic pressure over the the nation's worsening human rights record.
"The (attendance) numbers are reflective of the US commitment in the region," US embassy spokesman Stephane Castonguay said at the start of the exercise.
"The focus of this exercise still remains humanitarian help and disaster relief, in addition to community relations projects."