Cambodian woman jailed for throwing shoe at picture of prime minister
Sam Sokha is now beginning a two-year prison sentence for "insult of a public official".
Prime Minister Hun Sen has stepped up prosecutions of critics and political opponents.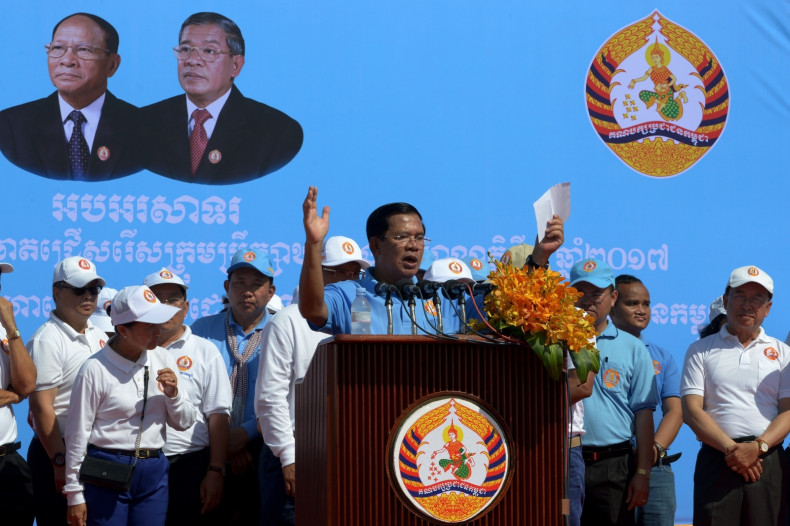 A Cambodian woman who threw a shoe at a billboard depicting Prime Minister Hun Sen has been arrested after being repatriated from Thailand, despite UN agency claims that she had been formally recognised as a refugee.
Labour activist Sam Sokha was returned to Cambodia on Thursday (8 February) and began a two-year prison sentence for the shoe-throwing on Friday (9 February), according to Kampong Speu provincial police general Sam Samoun.
Sokha was convicted of "insult of a public official" and "incitement to discriminate" in absentia on 25 January. She had been detained in Thailand since 5 January, according to Human Rights Watch.
A 13-second video clip that circulated on the internet last April showed Sokha looking at a roadside ruling party billboard, then throwing one shoe at the image of Sen and a second shoe at an image of one of his party colleagues. "This man even came here to destroy the nation," Sokha can be heard saying in the video.
Human Rights Watch said Sokha's forced repatriation violated the customary principle of international law that "prohibits the return of anyone to a place where they would face the threat of persecution, torture, or other serious human rights violations".
"People have every right to criticise, insult, and satirise their government or political leaders without fear of retribution," Chak Sopheap, executive director of the Cambodian Center for Human Rights, said last April.
"It is unacceptable and unlawful for state authorities to subject individuals to judicial harassment and potential criminal charges simply for expressing their negative opinion of those in power."
"Thailand was fully aware of Sam Sokha's status as a refugee, yet still returned her to Cambodia, where she is likely to face a prison term for expressing her political views," Brad Adams, Asia director at Human Rights Watch, said in a statement.
"It's sad but not surprising that a military junta would do a favor for a neighboring dictator, but they should not cement their friendship at the expense of a refugee."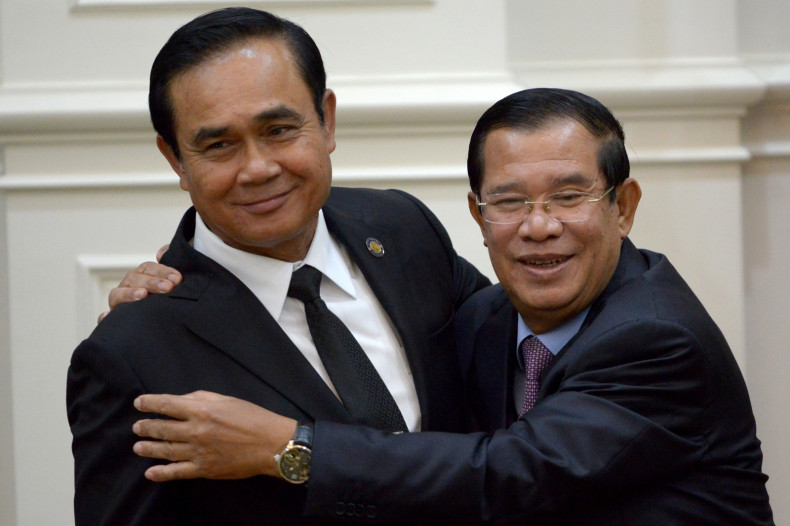 Crackdown on democracy
Sen's Cambodian People's Party stepped up prosecutions of critics and political opponents ahead of nationwide local elections last year and a general election in 2019. Media outlets seen as critical of the government were forced to shut down.
Hun Sen has been in power for 33 years, and while maintaining a framework of democracy, tolerates little opposition. But his grip seemed shaken in 2013′s general election, when the opposition Cambodia National Rescue Party (CNRP) mounted a strong challenge, winning 55 seats in the National Assembly and leaving Sen's party with 68.
In September 2017, CNRP leader Kem Sokha was arrested on treason charges, accused of working with the US government to overthrow Sen's regime.
Cambodian courts, which are generally seen as acting under the influence of the government, dissolved the opposition party in November 2017, depriving it of all its seats in parliament.
Many political opponents have since fled Cambodia – many to Thailand – to avoid Sen's crackdown.
New US legislation has been introduced that will impose sanctions and postpone discussion of forgiving $506m (£364.6m) of Cambodian debt until the CNRP is restored and political prisoners are released.
The 2017 Democracy Index produced by the Economist showed Cambodia dropping 12 places since 2016, leaving it 124th out of 167 countries.
"Cambodia scored poorly in electoral process and pluralism following the forced dissolution of the main opposition party in November 2017, which turned the country into a de facto one-party state," the report read.