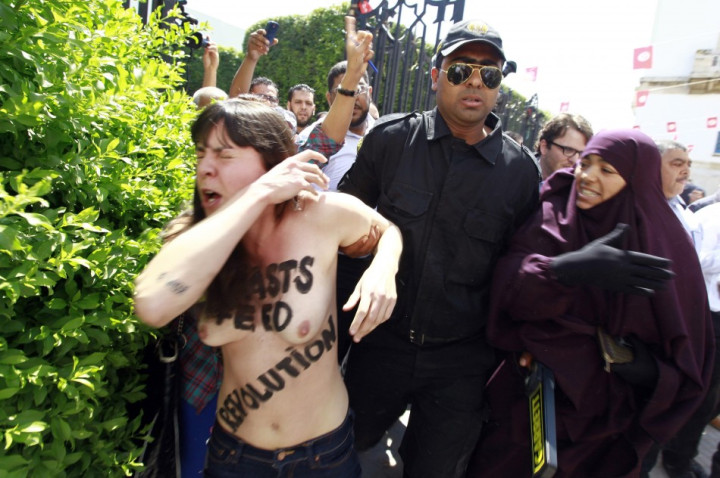 The number of plaintiffs in an indecency trial against members of the Femen radical feminist group has snowballed.
Three activists, two French and one German, were charged after they staged a topless protest on 29 May outside the Tunis Palace of Justice to demand the release of Amina Tyler, a Tunisian feminist protester arrested for being in possession of pepper spray.
As the trial of the three European activists opened in Tunis, several Islamist groups put their names down as official complainants in the hearing. Under Tunisia's legal system outside bodies can participate in a trial as "injured parties" and sue for damages.
Amina, 19, appeared before a judge in Kairouan who will decide whether to charge her also with public indecency and desecrating a cemetery.
The activist, who went missing in April after receiving death threats for posing topless with the words "f**k your morals" emblazoned across her chest, was arrested in Kairouan as she protested against Salafist movement Ansar al-Sharia, which plans to defy a government ban on it meeting.
Her picture angered Adel Almi, a radical Muslim and extremist imam who heads the Commission for the Promotion of Virtue and Prevention of Vice. He said she deserved to be whipped or stoned to death.
Femen staged a number of bare-breasted protests across Europe as part of a topless jihad day in her support. The initiative was criticised by a group of Muslim women who launched a counter-protest against Femen. Amina herself appeared on video to distance herself from the protests but later said she had been forced to do so.