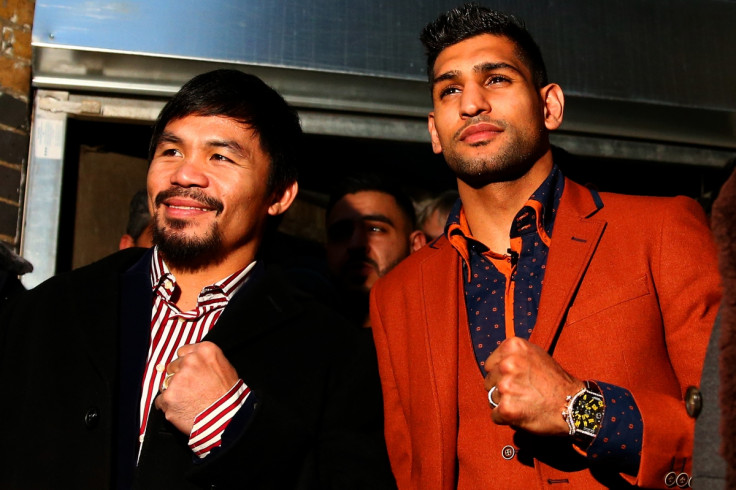 Amir Khan has pulled out of negotiations for a fight with Manny Pacquiao and says he is now considering other options. Pacquiao is currently recuperating from a torn rotator cuff suffered prior to his defeat to Floyd Mayweather in May, but is planning one more fight in 2016 before retiring from the sport.
The Filipino fighter has claimed in recent weeks he would have "no problem" taking on his former sparring partner, but according to Khan, Pacquiao's camp have stalled throughout the negotiations, believing they are still hopeful of an unlikely rematch with Mayweather.
Speaking to The National, Khan said: "I am really disappointed in Manny and his team. They aren't playing ball. All that was left to do is to sign the contract. But they are stalling. I have pulled out of the negotiations. I am no longer fighting Manny Pacquiao.
"They know I am a tricky fight for him and they know I will beat him. Or else, why pull out of a fight when there is a lot of money on the table. I don't really know if Mayweather is fighting Pacquiao again. It is a possible reason for him to stall on signing the contract, but I don't really know."
Khan followed up those comments with a tweet which read: "Pacquiao fight could still happen if he signs the contract, but I'm also looking at other options."
Khan has previously said he is eager for rematches with Danny Garcia and Lamont Peterson, who he suffered back-to-back defeats to in 2011 and 2012 respectively. A match with IBF champion and long-term adversary Kell Brook also remains on Khan's mind.
"I am not going to wait around for Manny like I did for Mayweather," Khan continued, having been snubbed by Mayweather twice in favour of Argentine Marcos Maidana in 2014. "I need to fight and if they don't want to fight then that is fine, I have other targets.
"I already had a backup plan drawn up in case the Pacquiao fight didn't go to plan. We are looking at a Danny Garcia rematch. I also would like to fight Tim Bradley; that's another interesting fight. A rematch with Lamont Peterson and, of course Kell Brook is also another option. I am willing to fight anyone but it seems not everyone is willing to fight me."