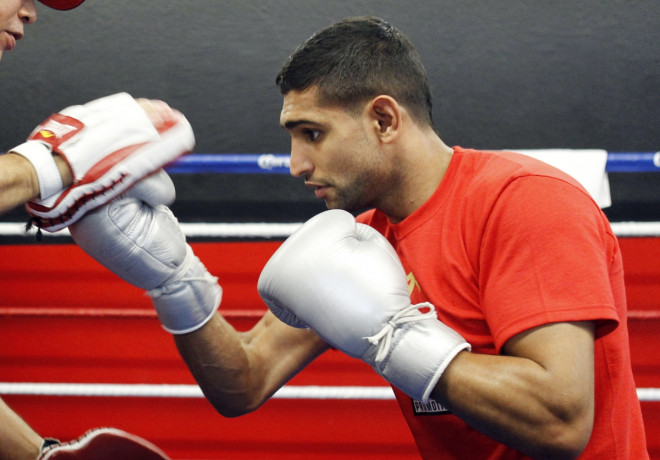 Amir Khan has signed a deal to work alongside influential boxing advisor Al Haymon in a move that could move him to the front of the queue waiting to fight Floyd Mayweather.
Haymon, formerly an influential figure in the music industry, is swiftly establishing himself as a powerful figure in boxing also working alongside one-time Khan opponent Danny Garcia and Adrien Broner, another looking to dethrone Mayweather as the best pound for pound fighter in the world.
"I am very happy to have signed with Al Haymon who has not only shown that he is a very astute businessman, but is extremely knowledgeable of the fight game and always has his fighters' best interests at heart," Khan said on Tuesday night.
"I'm looking forward to building a long and successful relationship during this exciting stage of my career."
Khan has been represented by Oscar De La Hoya's Golden Boy Promotions since 2010 and remains tied to the US-based group, but is hopeful his additional links with Haymon will make a potential clash with Mayweather a reality.
A spokesman for Khan said on Tuesday night: "He's still with Golden Boy and will be continued to be promoted by them. Al Haymon will be there advising on fights and helping steer his boxing career going forward. [There is] no guarantee on Mayweather but it should hopefully make things a little easier when the time comes."
Khan walked away from a world title fight with Devon Alexander last December on the advice of Golden Boy in order to sign a contract for a May meeting with Mayweather. The unbeaten American didn't sign however and a fight failed to materialise despite Khan winning an online poll voted for by fans to select the 37-year-old's next next opponent.
Khan will fight former WBA welterweight champion of Luis Collazo on the undercard of Mayweather's Las Vegas showdown with Marcos Maidana on 3 May.