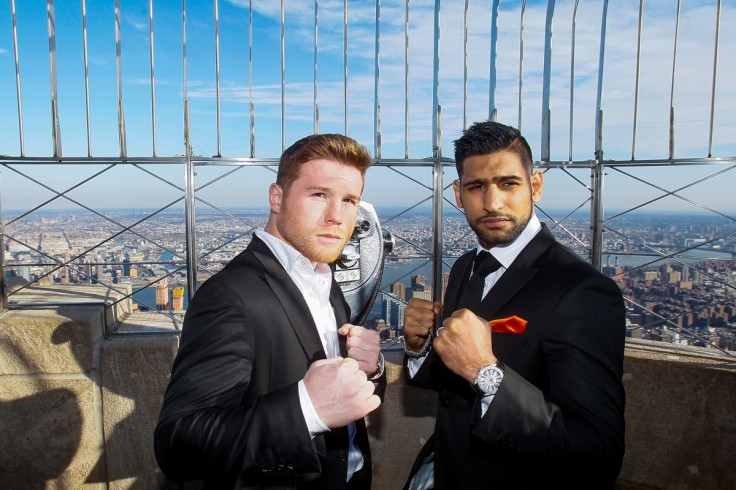 Amir Khan thinks the fear of getting hurt will assist his bid to defeat Saul 'Canelo' Alvarez in their clash for the WBC middleweight title on 7 May in Las Vegas. The 29-year-old Brit is stepping up from the welterweight limit of 147 pounds to a catch weight of 155 pounds in order to face the burly Mexican, and Khan thinks the weight difference could play to his advantage.
Khan, who has suffered three loses as a professional, admitted to taking some of his previous opponents lightly. However, because of Canelo's size advantage and punching power, he has promised to box a smarter fight than he normally does.
"We don't want to walk into a fight and get hurt. I want to have a life after boxing," Khan said during a pre-fight conference call with reporters. "By me taking this fight, I will be more focused. I know I can't make mistakes against this guy.
"I made mistakes in the past at my other weights because I knew I was more gifted than them, I knew I was more skilled and a better fighter than them guys. They can be my worse opponents because I don't really have that fear element. When you're fighting someone who is tough it is going to be a tough fight and that is what brings my A game out of me."
Khan explained that by moving up in weight, he has not had to shed any pounds in the build-up to the fight, leaving him free to concentrate on the tactical side of the bout. He insisted, too, that he is punching harder since moving up to middleweight.
"I feel stronger, I'm sparring with some very tough guys in the gym," he shared. "The weight is giving me stability and power. Normally we have to lose a lot of weight, it weakens me. I'll be focusing on my game plan and my boxing skills.
"We're doing everything right. My skills and speed will win me this fight, I know I'm not going to be stronger than him. It's the first fight I'm walking into as the underdog, that way I can prove to people this is where I belong. It is about making history in boxing and leaving a legacy."