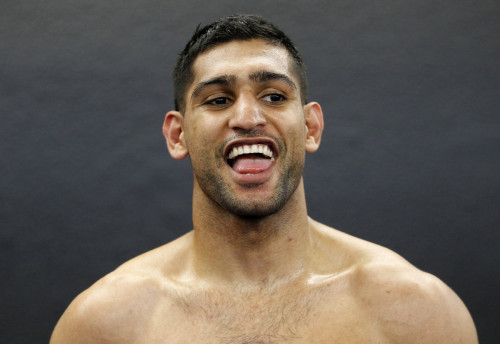 Floyd Mayweather Jr would easily defeat Amir Khan if the pair collide in 2014, according to the American's father.
The British former Olympic silver medallist is among the prospective opponents for the unbeaten welterweight's next fight on 3 May though Argentine Marcos Maidana is another potential challenger.
But prior to any fight being confirmed, the Mayweather family have begun the war of words with the Khan camp months ahead of a potential showdown, with Mayweather Sr claiming the Brit would be easy pickings for his son.
"Both [Khan and Maidana] would be easy, there are two easy fights there," Mayweather told Hustleboss. "Both of them are easy. Maidana might have a punch on him but you still can't hit what you can't see so that's going to put Maidana under pressure.
"Amir Khan has a glassjaw and it shatters."
Khan has been labelled as 'chinny' following convincing defeats to Breidis Prescott and Danny Garcia during his career and would be a massive underdog against Mayweather should the pair square-off this year.
And uncle and trainer Roger Mayweather has sought to stick the knife in further, claiming that despite Khan being a bigger draw than Maidana, the 27 year old doesn't deserve such an opportunity.
"I think Amir Khan is a bigger fight," he told Hustleboss.
"Not really, not really but he's the only guy who really has a name where you could put it on [broadcasting network Showtime].
"For the networks, you need to have a guy who could [produce], in order to get the television (viewers) to watch it."
Mayweather has four more fights remaining on his multi-million dollar Showtime television deal and is expected to announce on the weekend of Superbowl XLVIII [2 February] whether Khan or Maidana will be his next opponent.
Khan hasn't fought since defeating Julio Diaz in Sheffield last April.