The southern Indian state of Tamil Nadu has ground to a halt after its Chief Minister Jayalalithaa Jayaraman, 68, fondly known as "Amma" (mother), died following a prolonged illness. Hundreds of thousands are gathering in Chennai to pay tribute as her body draped in the tricolour Indian flag lies in state at a massive public hall.
Jayalalithaa, often hailed as the "iron lady" of south India, once a successful film actress, died on Monday (5 December) after suffering a cardiac arrest a day earlier. She had been in Apollo Hospitals since 22 September.
Indian Prime Minister Narendra Modi is en route to Chennai, the capital of Tamil Nadu, from New Delhi to pay tribute to the iconic leader of regional politics. President Pranab Mukherjee is also expected to arrive shortly followed by the chief ministers of more than 15 Indian states.
Most of the businesses including petrol stations and pharmacies across Chennai, a city with a population of eight million, have been shut. Roads wear a deserted look and essential items such as milk have become scarce in most parts of the city. Similar scenes have been reported from most parts of Tamil Nadu.
Jayalalithaa's closest aide, O Panneerselvam, was sworn in as the new chief minister of Tamil Nadu – a state which is one of India' largest and economically biggest – at an early morning ceremony on Tuesday, 6 December. A teary-eyed Panneerselvam was seen having Jayalalithaa's picture in his pocket during a sombre swearing-in event.
Thousands of police personnel have been deployed across Chennai and paramilitary forces are on standby to prevent any unrest stemming from Jayalalithaa's death. Brief news about her death – which was quickly withdrawn – emerged earlier on Monday evening leading to scuffles but the protests were later contained.
Jayalalithaa will be cremated next to the memorial of her political mentor, M G Ramachandran on Chennai's famed Marina beach following a funeral at 4.30pm local time (11.00 am BST).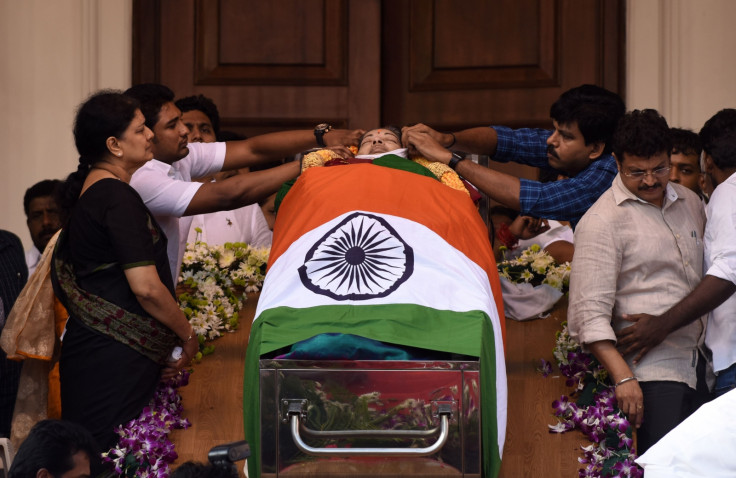 Nearly 15 million people gathered when a former chief minister of Tamil Nadu, C N Annadurai, was laid to rest in 1969 making it one of the largest peaceful gatherings in the world. Similar numbers are expected for Jayalalithaa.
A seven-day mourning period has been declared in Tamil Nadu. Schools and colleges will remain closed for three days. The federal government will observe a day-long mourning while several other states have also announced similar tributes.
Jayalalithaa, who held her own through the deeply-rooted patriarchal political system, enjoyed an unequalled cult status in Tamil Nadu. She was born in 1948 and rose to stardom as a child actor but her political breakthrough came in the 80s when she joined hands with Ramachandran, an actor-turned-politician himself. Jayalalithaa then went on to become a four-time chief minister.
She managed to garner unparalleled public support through a slew of low-cost schemes which include distributing free laptops, cycles, and household items to the poverty-stricken sections of society. Publicly funded schemes such as Amma canteens, Amma Bottled Water, Amma Salt and Amma Pharmacies catapulted Jayalalithaa to demigod status among the public of Tamil Nadu.
Critics accused her of an imperious style of functioning both within her own party, the All India Anna Dravida Munnetra Kazhagam (AIADMK), and in her administration.