The chief minister of the southern Indian state of Tamil Nadu, known to many as 'Amma' or mother, Jayalalithaa Jayaram has died aged 68 after suffering a cardiac arrest on Sunday 4 December. The former actress who was in a critical condition and on life support died at the Apollo Hospitals in Chennai. She was admitted to the hospital on 22 September after suffering from fever and dehydration.
Apollo Hospitals said in a statement: "It is with indescribable grief we announce the sad demise of our esteemed honourable chief minister of Tamil Nadu Puratchi Thalavi Amma at 11.30pm today (5 December 2016)."
The hospital said that following treatment after she was first admitted, she was transferred from the advanced critical care unit to the high dependency unit where her health and vitals continued to improve.
"Unfortunately the honourable chief minister suffered a massive cardiac arrest on 4 December 2016, even while our intensivist was in her room", the hospital said. Despite CPR and extracorporeal membrane oxygenation support, she passed away.
Jayalalithaa, who was born on 24 February 1948, made her debut as a film actress when she was only 16-years-old in a Kannada film. She has starred in more than 140 films in Tamil, Telugu, Kannada, Malayalam, Hindi and even English, the Times of India reports.
She is well known for acting together with another actor-turned-politician, MG Ramachandran, who also had a cult following in Tamil Nadu.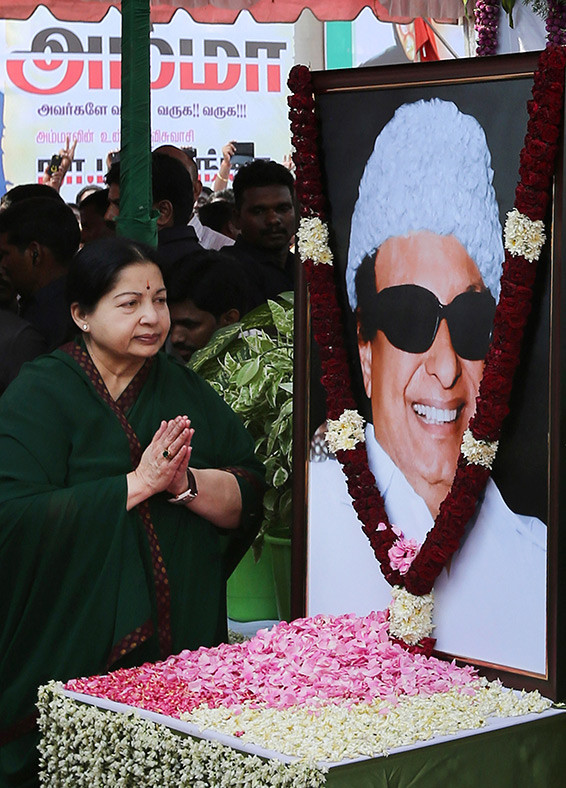 She served three times as chief minister. Despite a string of corruption scandals, she has been hugely popular in the state.
The US consulate in Chennai has warned its citizens to avoid areas of demonstrations and to be vigilant. Following the death of MGR, Jayalalithaa's mentor, there was massive looting and rioting across the state by grief-stricken supporters in 1987.
Social media reaction
Indian Prime Minister Narendra Modi reacted to the news on Twitter:
The President of India, Pranab Mukherjee, also expressed heartfelt condolences on her death.
Jayalalithaa in a rare TV interview.