Update: The chief minister of the southern Indian state of Tamil Nadu, known to many as 'Amma' or mother, Jayalalithaa Jayaram has died aged 68 after suffering a cardiac arrest on Sunday 4 December. The former actress who was in a critical condition and on life support died at the Apollo Hospitals in Chennai. She was admitted to the hospital on 22 September after suffering from fever and dehydration.
Original story: The popular leader of India's southern Tamil Nadu state is in critical condition after suffering a heart attack. Large crowds are keeping a vigil outside the hospital where doctors are fighting to save the hugely popular – but highly controversial – former film actress.
Jayalalithaa Jayaraman, 68, went into cardiac arrest on Sunday night, and underwent surgery at the Apollo Hospital in the state capital Chennai where she had been staying since being admitted with a severe respiratory ailment in September. She remains critical and on life support systems. Richard Beale, an intensive care specialist and part of Jayalalithaa's medical team, said the "situation is grave."
Authorities in the southern state increased security around Chennai to prevent her worried supporters from creating public disorder. Police were deployed across the state to ensure security out of fear that her death could trigger widespread violence and riots.
Popularly known as "Amma", or "Mother" in the Tamil language, she had a successful film career that included appearances in nearly 150 movies.
She has had three stints as chief minister of Tamil Nadu, the latest of which began in May 2011. She was introduced to politics by her cinema screen partner, MG Ramachandran, another actor-turned politician. She remains hugely popular despite being jailed more than once for corruption.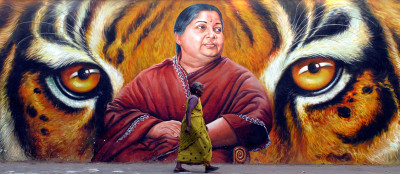 The US consulate in Chennai warned US citizens to avoid areas of demonstrations and be vigilant because of the chance of violence. The death of Ramachandran, or MGR as Jayalalithaa's mentor was known, sparked looting and rioting across Tamil Nadu by his grief-stricken supporters in 1987.