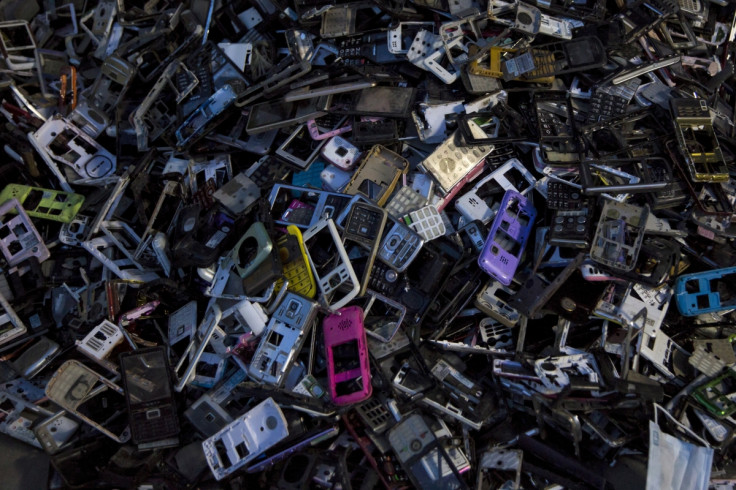 In 2016, humanity generated 44.7 million metric tonnes (Mt) of electronic waste, according to a new UN-backed report.
The amount is equivalent to roughly nine Great Pyramids of Giza, 4,500 Eiffel Towers, or 1.23 million fully-loaded 40-tonne lorries – enough to form a line from New York to Bangkok and back.
And this waste is only increasing. The report shows that the amount generated grew 8% in just two years between 2014 and 2016 and is expected to increase a further 17% by 2021. Electronic waste is the fastest growing part of the world's domestic waste stream.
The term e-waste – discarded products with a battery or plug – describes everything from refrigerators and solar panels to TVs, phones and computers.
The Global E-waste Monitor 2017, as the report is known, was the result of a collaboration between the United Nations University, the International Telecommunication Union and the International Solid Waste Association (ISWA).
"We live in a time of transition to a more digital world, where automation, sensors and artificial intelligence are transforming all the industries, our daily lives and our societies," said Antonis Mavropoulos, president of ISWA.
"E-waste is the most emblematic byproduct of this transition and everything shows that it will continue to grow at unprecedented rates," he said.
"Finding the proper solutions for e-waste management is a measure of our ability to utilise the technological advances to stimulate a waste-less future and to make a circular economy a reality for this complex waste stream that contains valuable resources."
The authors estimate that only 20% of all e-waste was recycled, despite it containing large quantities of reusable materials such as gold, silver, copper, platinum and palladium. These discarded materials were worth at least $55bn (£41bn), according to the authors' conservative estimate - more than the GDP of most countries in the world.
The report says that the remaining 80% was usually burned, thrown in landfills, recycled in backyard operations or remains stored in households.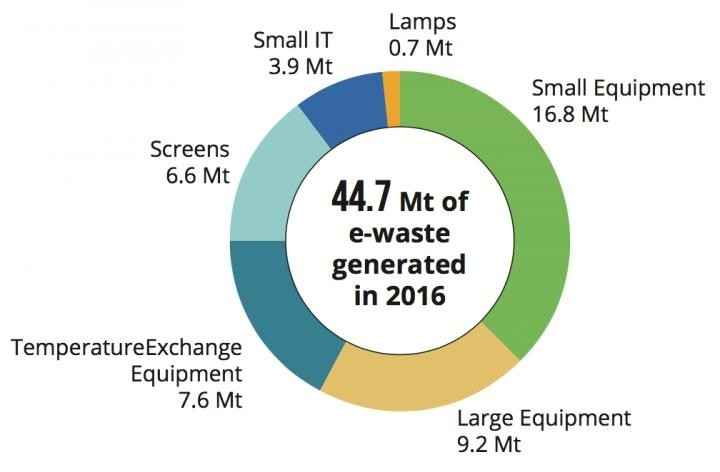 The findings also highlighted a number of growing trends.
For example, falling prices were making electronics ever more affordable and thus encouraging people to replace parts or swap their devices for new versions. As a result, the average amount of e-waste generated per person in 2016 reached 6.1kg, up from 5.8kg in 2014.
The highest e-waste generators per person were Australia, New Zealand and other Oceania nations who discarded 17.3kg on average while only formally recycling 6%.
Europe (including Russia) followed closely behind, generating 16.6kg per inhabitant on average – although Europe did have the highest collection rate at 35%.
The Americas and Asia generated 11.6kg and 4.2kg respectively, with collection rates hovering around 16%. Meanwhile, Africa generated the least per person – roughly 1.9kg - with little data available on its collection rate.
The authors have called for increased recycling of old electronics, the design of new devices which are easier to reuse or recycle, and better tracking of e-waste.
There are reasons to be hopeful, the report notes, as more countries adopted e-waste legislation. At present, 66% of the world's people – living in 67 countries – are covered by national e-waste management laws, an increase mainly due to India's adoption of legislation last year.
However, only 41 countries quantify their e-waste generation and recycling streams officially, meaning the fate of most of it is unknown. In light of this, Mavropoulos suggests that better data collection was required to tackle the issue.
"We need to be able to measure and collect data and statistics on e-waste, locally and globally, in a uniform way," he said.
"The Global E-Waste Monitor 2017 represents a significant effort in the right direction and ISWA will continue to support it, as it is the first but very important step towards the global response required."