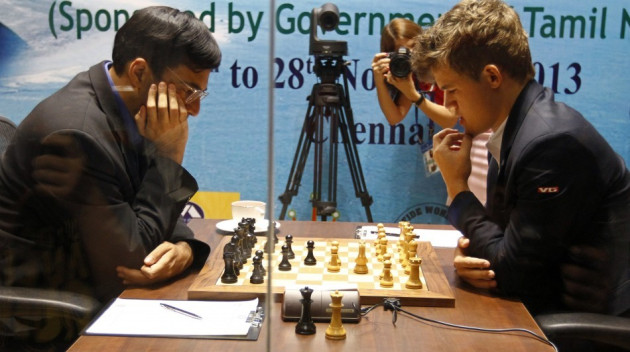 Click Here to Get Game 10 Preview
Defending champion Viswanathan Anand's poor form in the 2013 World Chess Championship continued as the Indian master lost Game 9 to World No 1 Magnus Carlsen at Hyatt Regency Chennai, India.
The 22-year-old now has a comfortable 6-3 lead over Anand after his latest win and he needs just one draw in the remaining three rounds to win the World championship title. On the other hand, the Indian Grandmaster needs to win the remaining three rounds to force a decider on 28 November.
Anand, with his white pieces, had a very good opening and came up with a different strategy in search of his first win over Carlsen in two-and-a-half years. The Game 9 saw 27 moves being played.
However, Anand lost the game after another careless error that cost him the game and could possibly cost him the world championship title. Carlsen was the favourite to win the competition and the Norwegian was closely waiting for the Indian to make yet another mistake to seal a win.
The first four rounds of the competition had ended in a draw before Anand's errors in Game 5 and Game 6 cost him two vital points. This had given the world No 1 a two-point lead over the Grandmaster, which has now increased to a three-point lead after Game 9.
All eyes will be on Carlsen to see if he will go for the kill in Game 10 or be defensive to seal a draw on Friday. However, as things stand, Anand has on hand a near-impossible task of scoring three wins in a row to retain the World chess championship title.
Anand's poor finish has yet again cost him the game. Another error and another defeat for the Indian and that could possibly be an end of a great era in chess.
Also Read
Photo Biography of Magnus Carlsen the Wonderkid of Chess

Game 8 Review Here
Game 7 Review Here
Game 6 Review Here