Anchor from Kremlin mouthpiece RT on panel at CPAC conference where Trump is giving speech
Ed Schultz will appear on the Free Trade, Fair Trade, or Phony Trade panel.
RT Media is taking part in a prominent Conservative conference attended by US President Donald Trump. This comes after the network was singled out last month by American intelligence agencies for its alleged involvement in a Russian campaign to influence the US election.
RT anchor Ed Schultz is scheduled to be a panellist during a talk on Thursday 23 February titled Free Trade, Fair Trade, or Phony Trade at the Conservative Political Action Conference (CPAC).
The conference has already drawn controversy this week after it cancelled another speaking slot by former right-wing Breitbart editor Milo Yiannopoulos. He was dropped from the lineup and lost his job and a book deal after making comments on relations between older men and underage boys.
The annual conference, which has hosted Conservative activists and elected officials since 1973, will feature a speech by President Trump on Friday. Trump's Secretary of Education Betsy DeVos will also speak.
Reporters and editors from the alt-right outlet Breitbart News, formerly run by Trump's chief strategist Steve Bannon, will moderate many of the events. Fox News, National Review, and Washington Times will also appear.
RT Media was singled out in early January in a report compiled by the Office of the Director of National Intelligence from information collected by the US Central Intelligence Agency (CIA), the Federal Bureau of Investigation (FBI), and National Security Agency (NSA) on Russian activities that influenced the 2016 US election.
The report identifies RT Media and its RT America TV brand, as "a Kremlin-financed channel operated from within the United States." The network's rapid expansion and budget "point to the channel's importance to the Kremlin as a messaging tool and indicate a Kremlin directed campaign to undermine faith in the US Government and fuel political protest."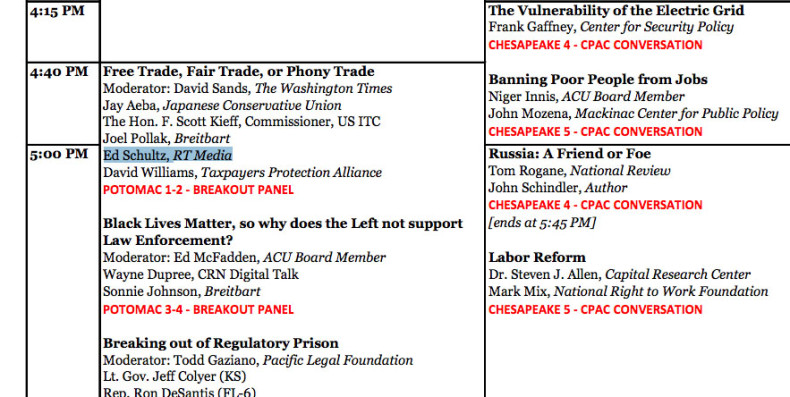 The intelligence report, which did not reveal key details about how the agencies reached their conclusions, left bipartisan members of the Senate Intelligence Committee in agreement about Russia's influence campaign after a classified version was briefed to them in early January.
A separate, similarly declassified report, found that Russian intelligence agencies were behind the hacking of the Democratic Party and Hillary Clinton's campaign emails.
During his confirmation hearing, Trump's CIA director, Mike Pompeo, said that he found the intelligence "report has an analytical product that is sound" and that "it's pretty clear about what took place here about Russia involvement in efforts to hack information and to have an impact on American democracy."
Neither CPAC, nor the Republican and Democratic heads of both the Senate and House intelligence select committees responded to a request for comment about RT Media's involvement at CPAC.