Ancient Church with Magnificent Mosaic Discovered in Israel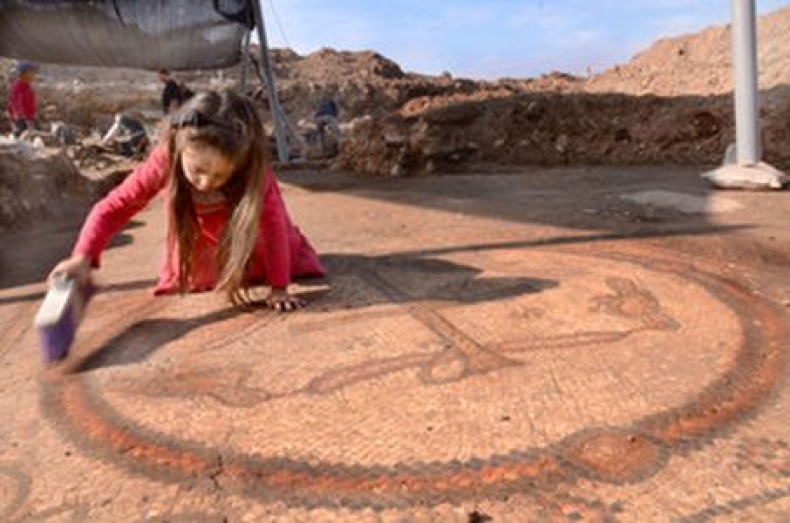 Remnants of a 1,500-year-old church having a fine mosaic have been uncovered in Israel during a recent excavation project of Israel Antiquities Authority (IAA).
The Byzantine era church was found at the excavation site in Moshav Aluma, about 70km south west of Jerusalem.
Archaeologists believe the church probably served as a centre of Christian worship for neighbouring communities in the sixth century.
The 22m long and 12m wide basilica building, which consists of a central hall with two side aisles divided by marble pillars, features a well-kept mosaic in the main hall adorned with coloured geometric designs, medallions and animal figures depicting zebra, leopard, turtle, wild boar, winged birds and botanical and geometric designs.
The aisles also have coloured mosaic floors depicting botanical and geometric designs, as well as Christian symbols.
The central hall of the church carries inscriptions in Greek which are the names of Mary and Jesus, according to archaeologists.
Remains of a pottery workshop and artefacts such as cooking pots, bowls, oil lamps and glass vessels were also uncovered during the excavation, indicating a flourishing culture in that era.
"This church is part of a large and important Byzantine settlement that existed in the region. Wine presses and pottery workshops found in the region attest to the economy of the local residents (during the Byzantine period) who made their living from the production and exportation of wine via the coast to the entire Mediterranean region," excavation director Dr. Daniel Varga of IAA said in a statement.
Varga said that the mosaic will be removed from the church and preserved for future generations.
"The magnificent mosaic that has come to light will be conserved, removed from the site and displayed to the public at a regional museum or visitors' center," he said.