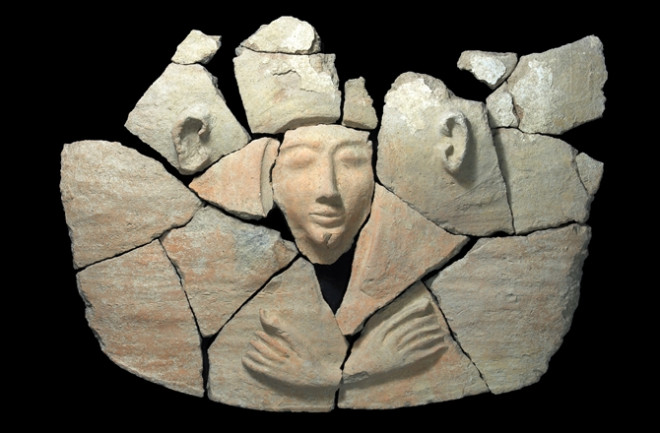 An Egyptian coffin having skeleton of a man buried with gold Pharaonic seal has been discovered in Israel.
The 3,300-year-old tomb was found at a burial site dating back to the Late Bronze Age (13th century BC) in Jezreel Valley in northern Israel, according to the Israel Antiquities Authority (IAA).
The tomb was designed in Egyptian style featuring a man's face and hands crossed over the chest.
The human-shaped coffin was surrounded by "a variety of pottery consisting mainly of storage vessels for food, tableware, cultic vessels and animal bones," IAA excavation directors Edwin van den Brink, Dan Kirzner and Dr. Ron Be'eri, said in a statement, according to Discovery News.
A bronze dagger, a bronze drinking bowl, pottery and hammered pieces of bronze were found inside the clay crypt alongside the skeleton.
The vessels recovered from the tomb were locally made suggesting that "the deceased was an official of Canaanite origin who was engaged in the service of the Egyptian government," the archaeologists said.
Canaanite people lived in the Biblical region of the present-day Israel, Lebanon and Palestinian territories.
However, according to researchers, an Egyptian seal encased in gold found next to the skeleton points to a strong connection between Egypt and Israel during the second millennium BC.
The seal was found affixed to a ring that bore the name of Egyptian pharaoh Seti I. Seti I was a powerful king of the Nineteenth Dynasty of Egyptian New Kingdom (16th to 11th century BC) who conquered the region in 13th century BC.
Archaeologists also assumed that the tomb belonged to a wealthy local individual who imitated Egyptian funerary customs, though it was less likely.
The IAA said DNA analysis of the skeleton would be done to determine the actual origin of the buried man.