Ancient shipwreck in Florida waters linked to French artefacts from colonial period
Cannons, anchors and a marble monument identified near Cape Canaveral, with signs of French origins.
Three shipwreck debris fields dating back to the mid-16th to 17th century may have been discovered in the waters of Cape Canaveral, Florida, by marine archaeology company Global Marine Exploration Inc. Divers encountered different artefacts, which they have tied to the French colonial era in Florida, between 1562 and 1565.
Cape Canaveral is a site that has long fascinated archaeologists and scientists, not least because it has for long been associated with American aeronautics and space research. "There is a lot of interest regarding the site off the coasts of Cape Canaveral because it is situated near a Nasa base and an air force station so it is crucial to survey and explore the whole coastline near these two centres. It is in this context that we found remains of shipwrecks, three of those debris being from the colonial period," Global Marine Exploration Inc. President & CEO Robert H Pritchett, told IBTimes UK.
The shipwreck remnants were discovered in May 2016, but have only been announced recently to avoid attracting unwanted attention while the research was in progress. Artefacts found in the scatter fields include three highly ornate bronze cannons, an iron cannon, 12 anchors, a 39-inch grinding wheel as well as scattered ballast and munitions, and what is believed to be a marble monument with the Coat of Arms of France, dating from the early colonial period.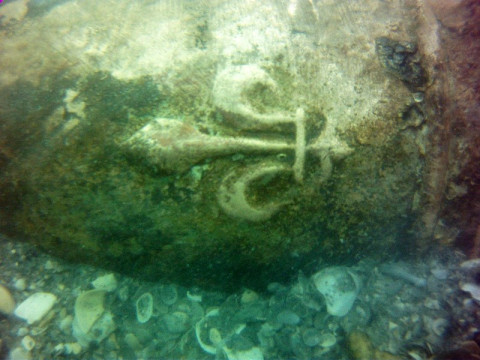 In the mid-16th century, French protestant Huguenots arrived and settled in what is now Florida, supposedly bringing with them this monument in honour of their king and their country.
Lost French vessels
So far, the artefacts have been diver-verified, mapped and examined in situ. Underwater video and photographs have also been taken and detailed drawings have been made. However, more in depth analysis of the findings and confirmation of their French origins will not be possible until the artefacts are recovered.
"We won't be 100% sure these are French artefacts until they are removed from the water, but it is a strong possibility as we have identified the coat of arms of the king of France and one of the cannon has markings liking it to the reign of King Henry II of France in 1548", Pritchett explained.
Despite the probable French origins of these objects, it is unlikely they had been on French vessels when they sunk. Although initial findings suggested the possibility that these were the remains of the lost French ships commanded by Jean Ribault in 1565, subsequent physical evidence and historical research has contradicted this theory.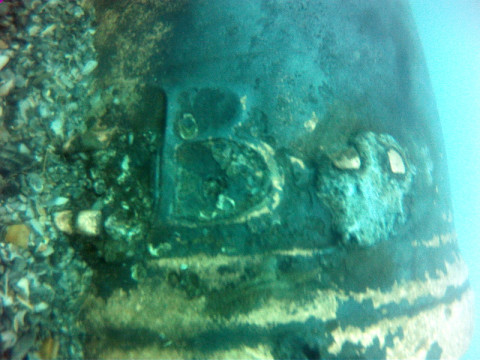 "We will probably never know the names of the ships these artefacts were on when they sunk. What is certain is that they are probably not the two lost French ships that we would all hope to discover – the Trinity and L'Emerillon. This is clear from the fact the cannons we seem to have found do not match the descriptions from the manifest we have. Additionally, the anchors we found are too big to be that of these two ships", Pritchett says.
The hypothesis is that the ships that sunk with these precious artefacts could have been Spanish or English vessels, which would have taken on board the French monument brought by the French colonisers some years earlier.
But even without knowing the real identity of the vessels, the significance of this find cannot be overstated. The study of the cannons and monument, once they are taken out of the water, will probably yield new clues about the history of French and Spanish colonisation of Florida during the 16th and 17th centuries.