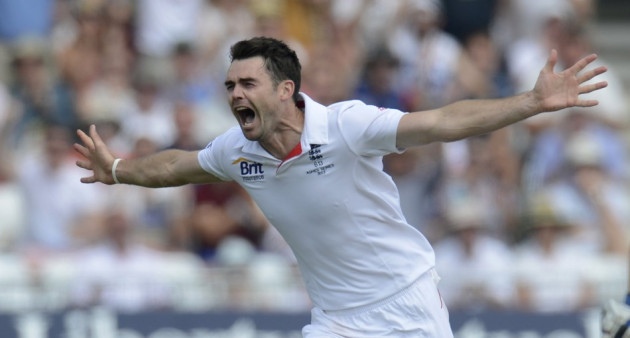 England coach Andy Flower has dismissed claims James Anderson's man-of-the-match performance in the first Test against Australia is systematic of his side's one dimensional approach.
Anderson finished with figures of 10 for 158 to help England take a 1-0 series lead heading into the second test at Lord's starting on Thursday.
The 30 year old is third on the all-time list of England wicket-takers with 317 Test victims and is closing in on Bob Willis' total of 325 after producing his finest international performance to clinch the first Test.
But despite being regarded as the leader of the England bowling attack and being ranked sixth in the International Cricket Council Test bowling rankings, Flower doesn't believe there is an overreliance on Anderson to perform.
"It's not one-man performing," Flower said.
"When you've got great players in your side they will affect games. For Jimmy Anderson to bowl more than 50 overs in the game and to take 10 wickets was a great example of skill and determination. But a lot of our guys stood up and performed well in this match.
"Steven Finn took crucial wickets in that first innings. We only had just over 200 on the board and he got Shane Watson early and Ed Cowan first ball. Those were crucial breakthroughs for us.
"That sort of striking is one of the things he's capable of with pace and bounce. He also bowled a really skilful spell of reverse swing against Michael Clarke and Steve Smith, beautiful outswing and almost got an lbw with inswing. So he made his contribution to this game as well."
Ian Bell's 109 also contributed to England winning the opening Test of an Ashes series for the first time since 1997 and Flower admits it was the Warwickshire batsman's finest performance for his country.
'I've seen a lot of very fine innings from Ian Bell," Flower said. "But in the context of what was a very tight game perhaps it was [his best]. Ian Bell was outstanding. It was a really skilful innings. But, more importantly, I think it was an innings full of courage and guts and resilience.
"No-one will ever play perfect cricket, it's not the way the world works nor the game works. We played some excellent cricket. Bell was outstanding; Anderson was a great example of skill and determination.
"Those are things that stand out in my mind. Bell diving twice and Jonny Bairstow diving to keep Brad Haddin on strike in that final over. Those are the things I like thinking about."