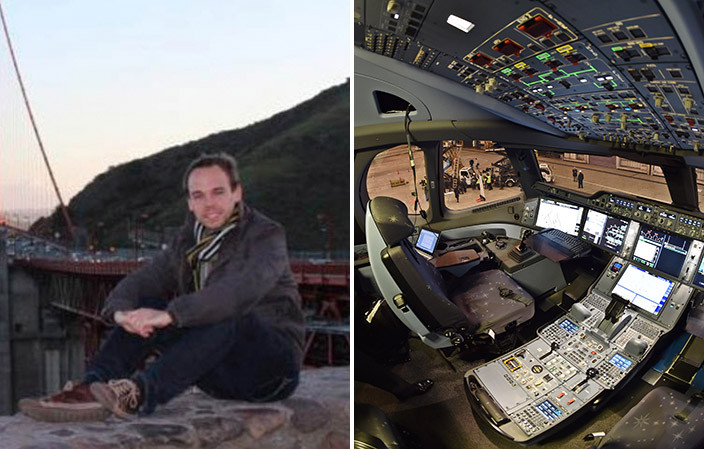 Germanwings flight 4U9525 co-pilot Andreas Lubitz took a long, unexplained break in his training six years ago, according to Lufthansa CEO Carsten Spohr.
Lubitz, who started training in 2008, was deemed "100% fit to fly" and passed psychological and physical checks "with flying colours". At the time of the crash, he had just 630 flying hours and joined Germanwings straight after training in September 2013.
According to reports, the mother of a schoolmate of Lubitz told the Frankfurter Allgemeine Zeitung he had told her daughter that he had taken a break from his pilot training because he was suffering from depression.
Officials in France said the co-pilot of the A320 Airbus, which crashed into the French Alps killing all 150 people on board, appears to have deliberately brought the plane down.
Marseille prosecutor Brice Robin said Lubitz, 28, a German national from Rhineland, "voluntarily" manipulated the flight monitoring system to start descent of the plane, while the captain was locked out of the cockpit.
The co-pilot, who trained in Bremen and Arizona in the US as part of the standard Lufthansa procedure, was fit for flying without any restrictions, according to the flight business.
Spohr said: "In a company like ours where we are so proud of our selection criteria and safety criteria, this is even more of a shock than it is for the general public."
The Lufthansa CEO could not explain why Lubitz took a break of "several months" from training six years ago. But he stressed that after the interruption, the co-pilot was tested upon the return before he was allowed to continue.
Details of Lubitz's life are still emerging, with investigators confirming he did not have any known terrorist links. According to the website of the flight club where he was a member, the co-pilot was from Montabaur in Rhineland Palatinate.
German media reports he joined budget airline Germanwings straight out of Lufthansa Flight Training School in Bremen in September 2013. Authorities have not confirmed if he had any experience as a professional pilot prior to that.
In 2013, the Federal Aviation Administration recognised Lubitz for "meeting and exceeding" the "high educational, licensing and medical standards" established by the body, which regulates civil aviation, reports the Aviation Business Gazette.
The FAA said the certification standards have evolved to "reduce pilot errors that lead to fatal crashes".
"Andreas became a member of the club as a youth to fulfil his dream of flying," the LSC club said in a death notice on its website.
"He fulfilled his dream, the dream he now paid for so dearly with his life," the club said, reports the Wall Street Journal.