It seems that every cyber-criminal in the world is determined to take down Google's Android operating system completely. Going by recent statistics, Android malware has increased by a whopping 600% in the last 12 months.
Adding value to this fact, and to highlight the need for Google to ensure better security measures at the developer level, a comparatively newer study has found that almost one in every ten Android apps is either partially or completely affected with malware.
This study conducted by China-based Cheetah Mobile (a leading mobile internet service provider with roughly 300 million active subscribers) states that the number of Android security issues has grown rapidly in the first half of 2014, with payment/financial data related malware (viruses wanting to suck out users' financial details) coming out tops in a survey.
In its survey, Cheetah Mobile claims to have obtained nearly 24.2 million sample files over a six-month period, starting January 2014. Of these, 2.2 million were found to contain malicious codes/viruses/malware.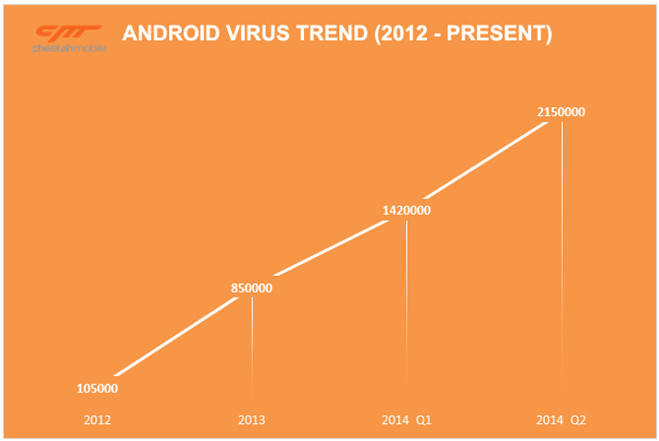 Engineers at Cheetah Mobile also state that the 2.2 million infected samples signify that malware increased by 20.5 times compared to a similar survey conducted by the company in 2012.
Cheetah engineers go on to add that the number of malware infections based on its survey increased by nearly 2.5 times, as compared to its malware tally in 2013.
Asia leads the pack
An important finding of Cheetah Mobile's latest study is that Asia has emerged as numero-uno in terms of virus/malware infection rate (especially on mobile devices). Western Europe follows Asia in terms of having the most virus affected systems.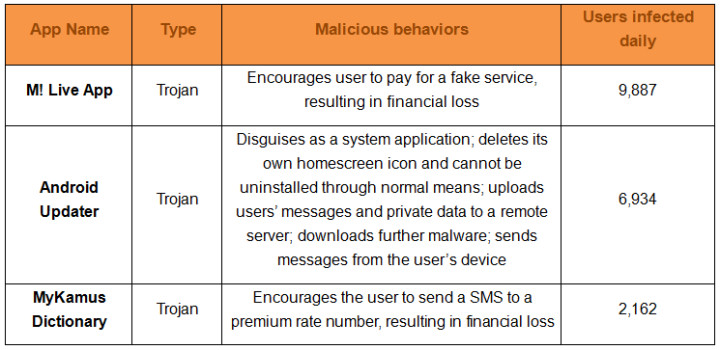 The reason cited for the above trend is the dominant presence of various third-party app stores in Asia and Western Europe.
The Cheetah Mobile study report states that app developers/app repository maintainers in these regions do not conduct stringent malware checks, as a result of which viruses throng these app repositories.
Countries like Russia and France have also been targeted by 'entertainment viruses', according to the study.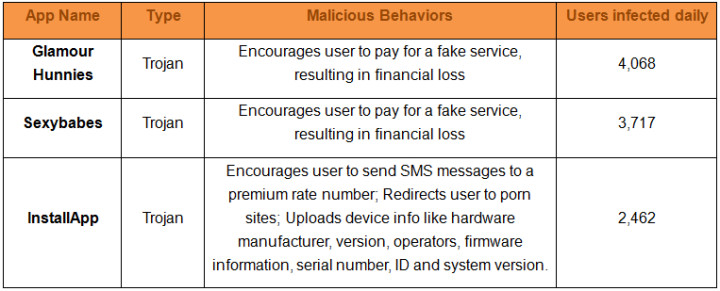 However, Australia, the United States and other European countries were found to have adopted stringent malware checks, as a result of which virus infection rates were found to be comparatively lower in these regions.
"The probability of a device in Asia being infected is two to three times greater than one in Europe or the Americas," states Cheetah Mobile engineers in a research report that details the company's latest malware study.
3rd Party markets spread maximum viruses
"According to our analysis, viruses coming from 3rd party markets account for 99.86% of infections - 713 times more compared to Google play at 0.14%," adds Cheetah Mobile's research report.
Android 4.1 and 4.2 versions most vulnerable
Google's popular Android versions viz Android 4.1 and 4.2 were found to have been the most hit by viruses and malware. However, the more recent versions such as Android 4.3 and 4.4 were found to be more secure.
Mobile Payment system malwares
Viruses targeting mobile payment systems were found to be trouble makers during the first half of 2014. These viruses and associated malware were found to account for nearly 68% of the total virus/malware count.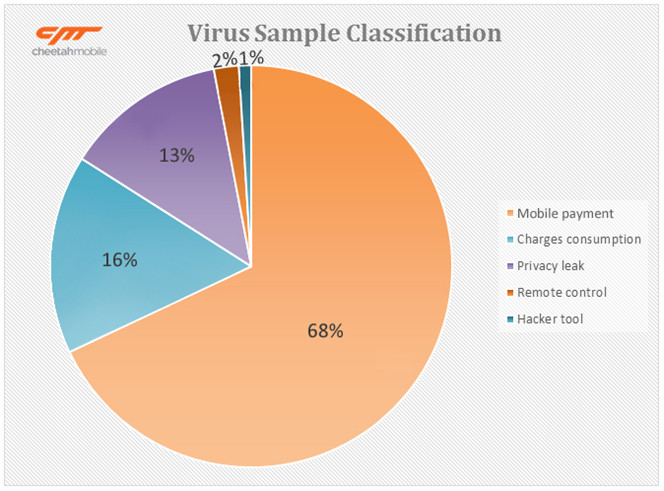 "It is theorized that their growth is concomitant with the growth of mobile payment systems worldwide. Hacking SMS or app payment methods is easier for hackers compared to hacking online banking systems."
The above findings indicate an urgent need for a global 'digital security' summit involving cyber-security experts from across the world, to discuss and come up with effective malware combat mechanisms.
Earlier in the year, security researchers detected the 'Heartbleed' bug which exploits flaws in OpenSSL, to steal information from wireless networks and connected devices.