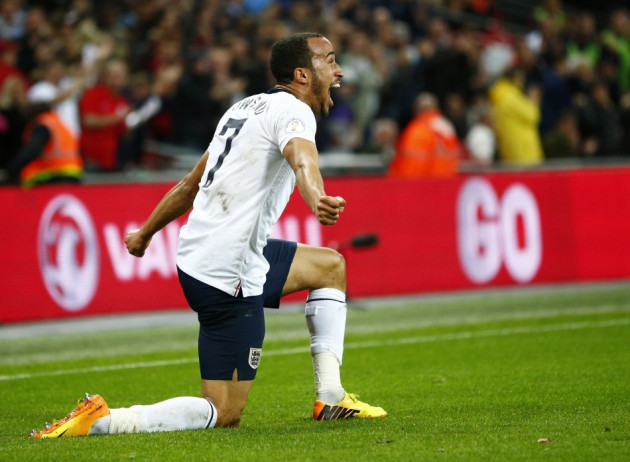 England manager Roy Hodgson has hailed Andros Townsend's sparkling international debut against Montenegro as the Tottenham Hotspur winger scored one and made another to put World Cup qualification a win away.
Townsend found Danny Welbeck, whose shot fell to Wayne Rooney to open the scoring after 48 minutes.
After Branko Boskovic turned the ball into his own net, Dejan Damjanovic pulled one back before Townsend hammered home a superb third and Daniel Sturridge struck a late penalty.
But the headlines belong to Townsend, who has gone from on the peripheral of Tottenham's first-team to a central figure for his country inside 12 months, and Hodgson was noptably thrilled.
"He made a big impact didn't he? He got the man of the match award, which I'm sure he is delighted with," Hodgson gleamed.
"It can't be easy for a young player making his England debut in a game of that magnitude but he deserves all the credit which I'm sure he is going to get.
"He played well. He played with a calmness and a composure which I've seen him play with when he played with Queens Park Rangers and most recently Tottenham and I was fortunate that he was able to reproduce it tonight."
The selection of Townsend, making his international bow, came as a surprise prior to kick-off given Hodgson's tendency to keep things tight during the qualification campaign.
And Townsend repaid Hodgson's faith and the England boss admitted it was a difficult decision to include the Tottenham man, with Jack Wilshere among the players starting on the bench.
"I'm quiet prepared to mention that it was a subject for discussion because on this occasion I had a lot of good players to choose from," he added.
"It wasn't easy to leave Wilshere out; it wasn't easy to leave James Milner out after all the work he's done for us in the previous eight games.
"In games of this nature that one very talented player and one very experienced player. It wasn't easy to leave Michael Carrick out so believe me there was plenty of talking before the game."