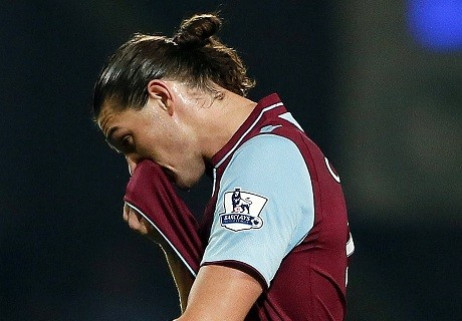 West Ham striker Andy Carroll has been quizzed by police after a photographer was allegedly assaulted during the club's Christmas party.
The 23-year-old star, the most expensive British footballer of all time, was in Dublin with team-mates when Garda officers were alerted to an incident on Grafton Street, in the heart of the city's shopping district, at around 2.30am.
Carroll was injured during West Ham's defeat to Manchester United last week, and has been ordered by the club to wear a protective knee brace. However photographer Paddy Cummins claims he spotted the striker without his brace in the early hours of the morning, and tried to take a picture.
Cummins claims Carroll then forced him to the floor, gouged his eyes and tried to bite him, while lunging to grab the camera.
The photographer, who is around seven inches shorter than Carroll, told The Sun: "He was like a wild animal.
"I felt this terrible pain in my eye as he gouged me. I was screaming, "My eyes." but he kept it up. The pain was incredible."
Carroll, who is on loan at West Ham from parent club Liverpool, denies any wrongdoing. His agent claims the brace was underneath his trousers during the night out.
The West Ham squad flew out to Dublin after beating Chelsea 3-1 in the Premier League on Saturday. It is claimed they began the evening in The Grafton Lounge before moving onto the popular Coppers nightclub.