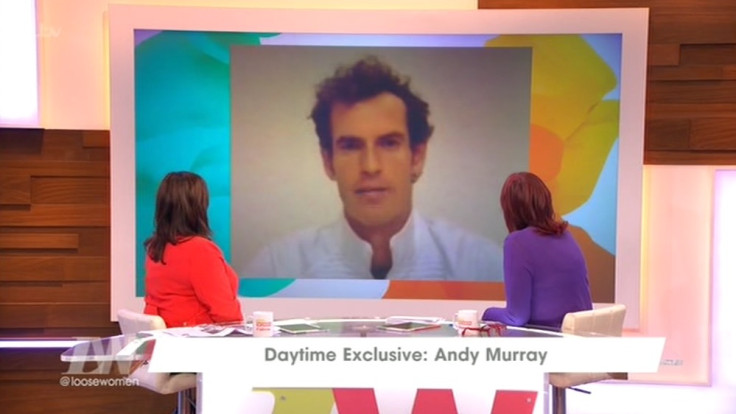 Andy Murray has been celebrating his second Wimbledon win after defeating Canadian Milos Raonic on Sunday (10 July) on Centre Court, with his "changed" performance observed by commentators including Sue Barker as "more focused" with the help of strategy notes at every game.
Speaking to Loose Women on Monday (11 July), Murray, 29, has credited his five-month-old daughter Sophia, who he had with his wife Kim in February, for altering his views on tennis and life in general.
Speaking to Coleen Nolan and Janet Street-Porter about being a father, he said: "It's changed my attitude to life really. It changes everything...it's been an amazing few months enjoying being a dad and hopefully I can keep performing on the tennis court, she's [Sophia] helped me in that respect for sure."
The world number two – who defeated 25-year-old Raonic at Queen's Club last month also – was overwhelmed with emotion after his big win at SW19 and cried for several minutes before being awarded the shiny gold Wimbledon accolade.
Murray also divulged that becoming a father has made him more emotional. On being asked whether this could be true, he told the female panel: "Yeah possibly, I mean I have always been very emotional, just people don't always see it...but if you ask my wife she would tell you I'm pretty emotional.
"But obviously having children changes your perspective on life, changes your perspective on things, so I feel like I'm appreciating things a bit more now. Tennis isn't the be all and end all, which is a good thing.
"You know before, tennis was all I was bothered about, whereas now the first thing I think about when I get up in the morning isn't tennis anymore and that's a good thing," he added.
Murray was also seen losing his temper on several occasions during the men's singles final, whereby he won 6-4 7-6 (7-3) 7-6 (7-2), and also discussed his on-court rages to the ladies.
"I still get angry, maybe it's a bit better than it was before, but the nerves are hard to keep in check but you also can't control your nerves, you can't just decide not to get nervous...the reason I get nervous for Wimbledon is it's the biggest tennis tournament in the world.
"It's what I train for the whole year and I want to perform well, and, you know, nerves aren't always a bad thing, it shows you care about what it is you're about to do and once I get out there I find a way of dealing with them," he continued.
Loose Women airs on ITV every weekday at 12.30pm.